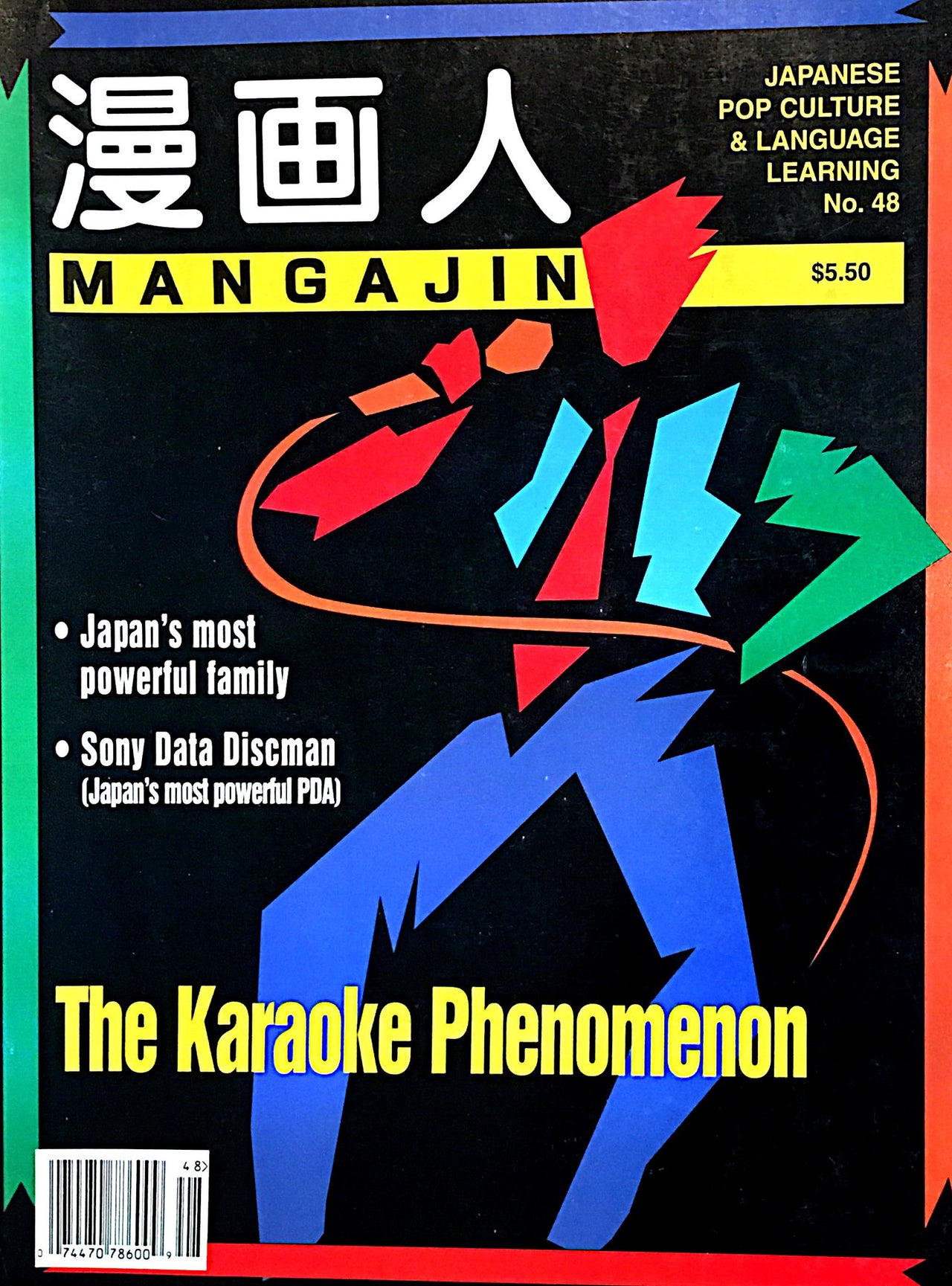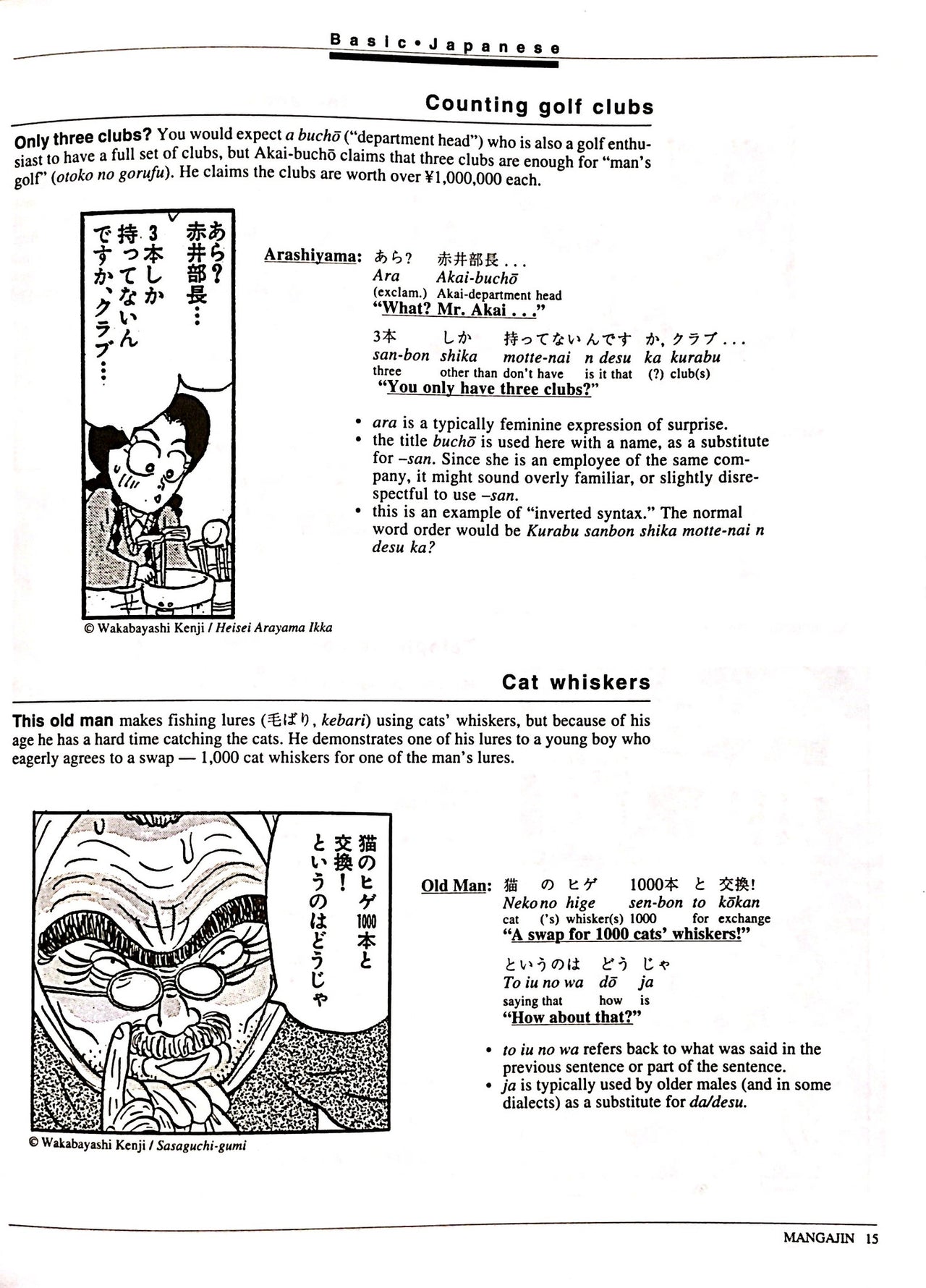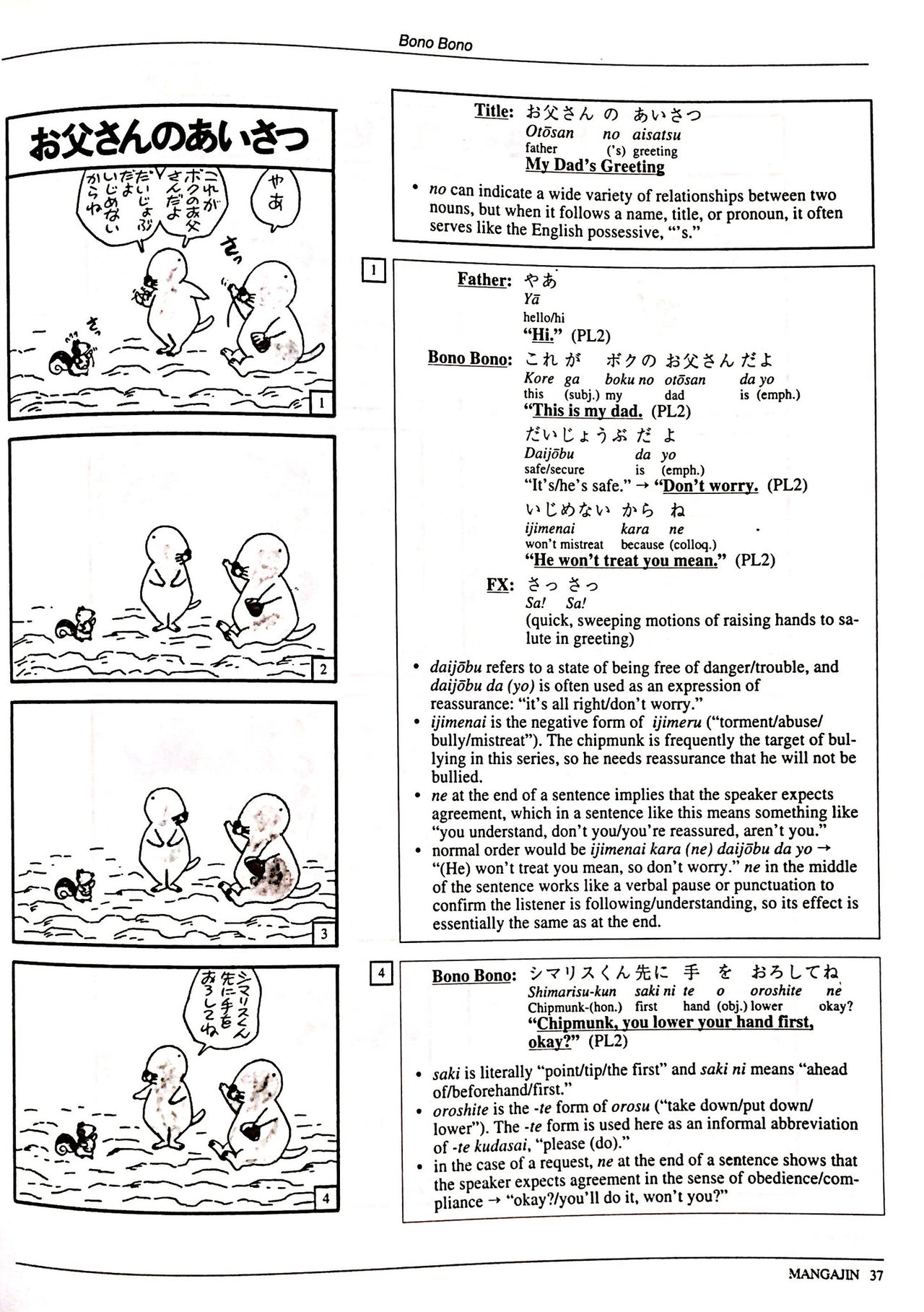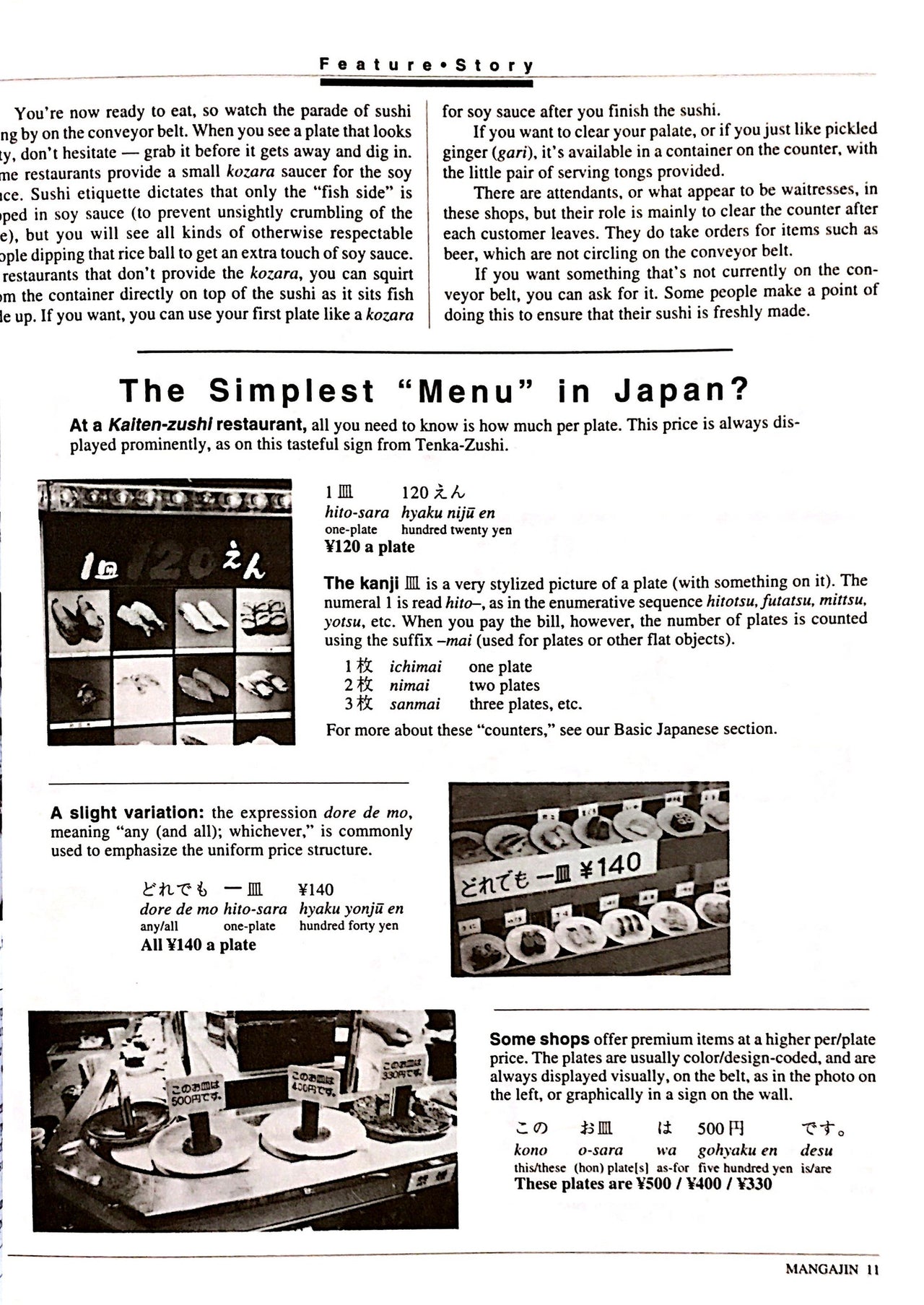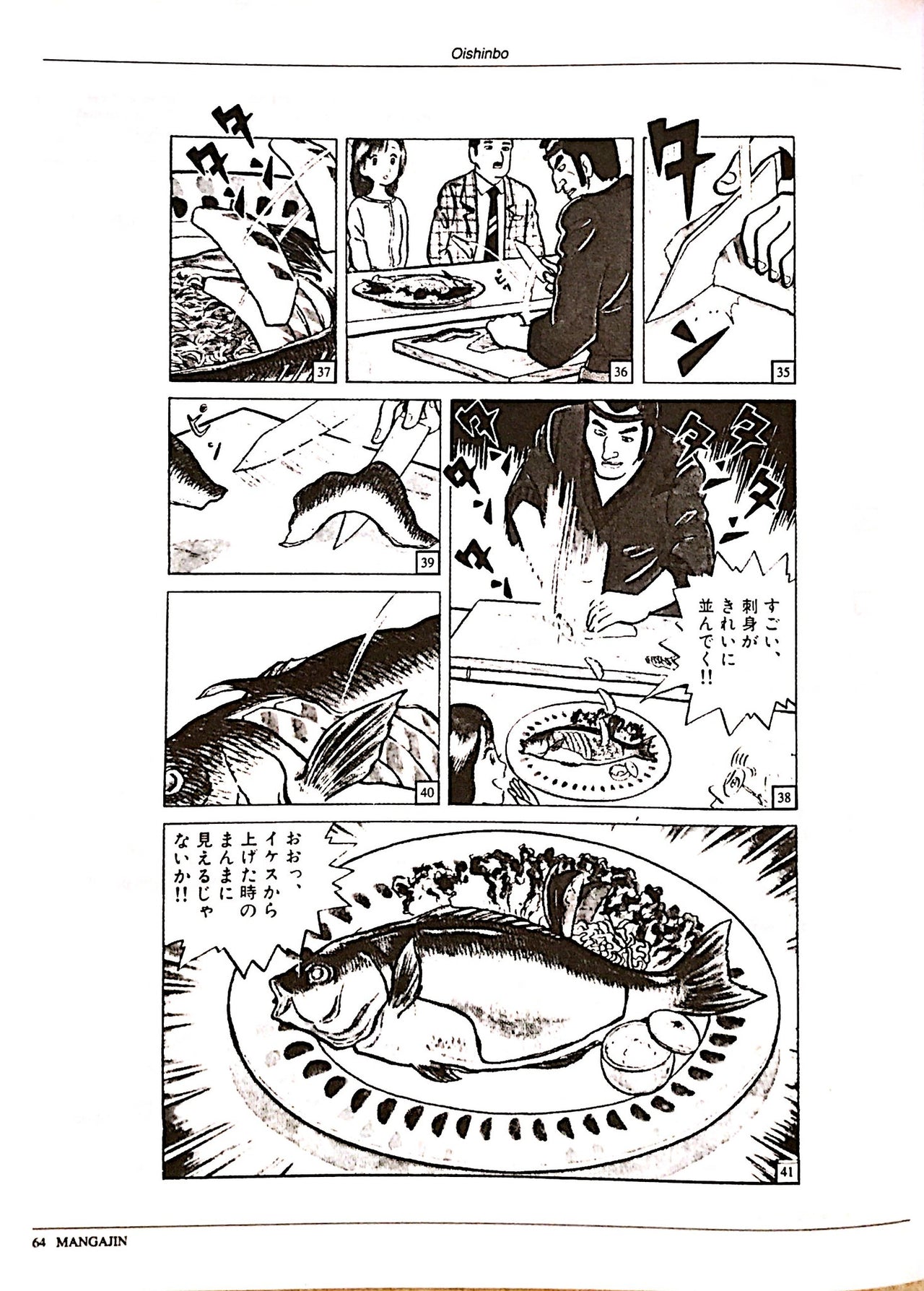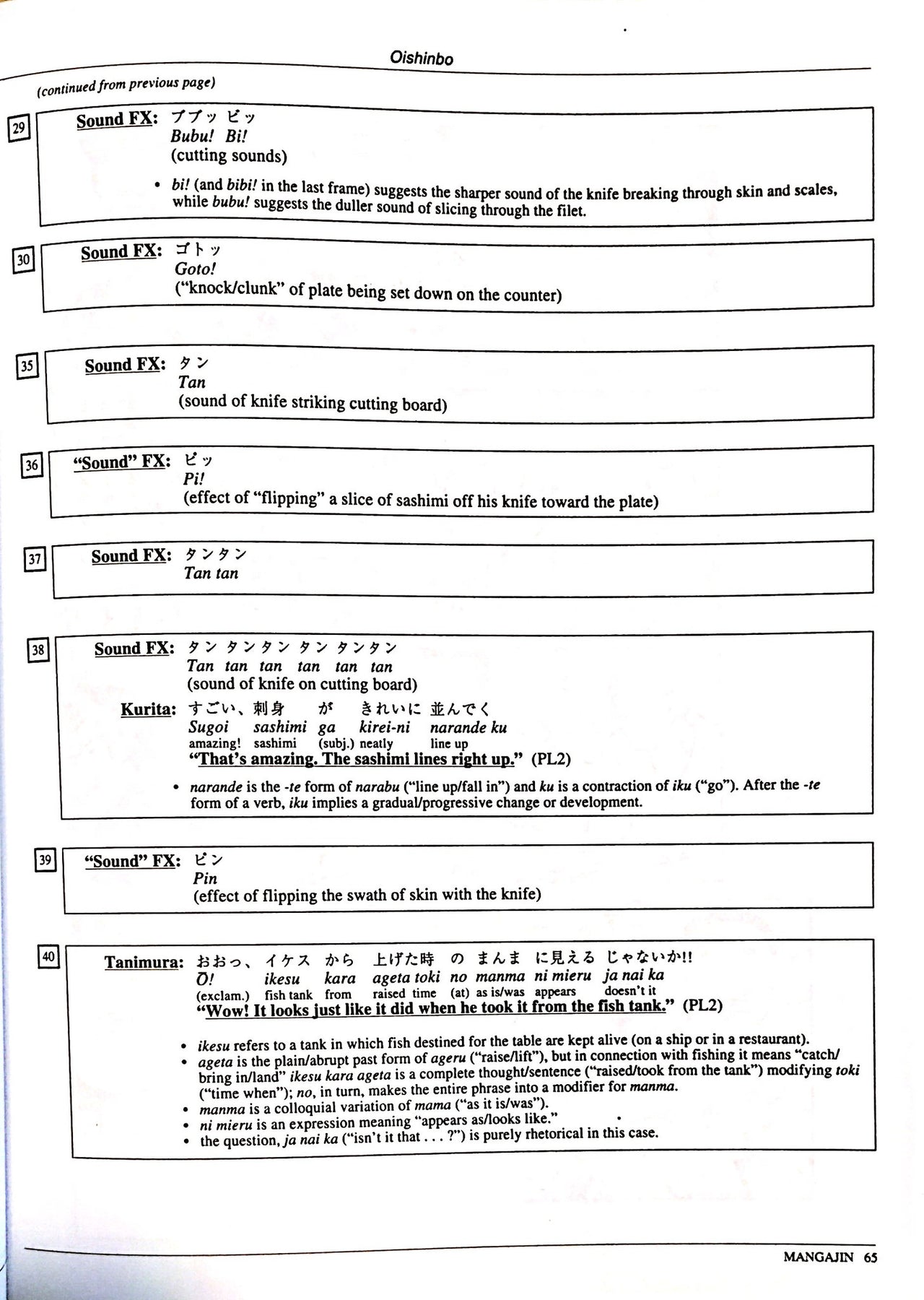 PLEASE NOTE: Mangajin ceased publication in 1998. These back issues may be new or used, but they will not be pristine. A few are still in sealed bags (for mailing), but even those are unlikely to be pristine due to shelf-wear and the amount of time passed. Please consider these as learning tools to be used rather than for collecting. That being said, if condition is important to you, please contact us with specific issues and we'll send you photos of the actual items.
Mangajin was a wonderful magazine for learners of Japanese. Each issue somehow had something for every level, but we recommend them most for upper beginners. 
Those interested in translation will love how Mangajin breaks down the manga it presents, explaining grammar, vocabulary, and cultural references with ease.
The cover image above is for this particular issue. The sample pages inside may or may not be from this exact issue.
Japan's most powerful family
· Sony Data Discman (Japan's most powerful PDA)
· The Karaoke Phenomenon
18
Cover Story: Karaoke in the 21st Century
What started out twenty years ago as a clunky machine holding 400 eight-track tapes has become a multi-billion dollar industry. The future of karaoke is now.
27
Living Game · りびんぐげーむ, by Hoshisato Mochiru
An old man struggles to keep his house in downtown Tokyo despite intense pressure to sell.
44
American Comics · アメリカの漫画
Garfield (by Jim Davis) and Calvin and Hobbes (by Bill Watterson) in Japanese.
48
Kono Hito ni Kakero · この女に賭けろ, by Sh

u

Ry

o

ka & Yumeno Kazuko
Ms. Harashima Hiromi takes on the banking world with an airy confidence that shocks her colleagues.
74
Run! Run! Alcindo!! · Run! Run!アルシンド, by

O

hira Kazuo
Some foreign players on J-League soccer teams are finding fame off the field.
78
Ningen Kousaten · 人間交差点, by Yajima Masao & Hirokane Kenshi
A man tries to understand why people were drawn to his mother, the late founder of a religious sect.
16
Brand News (Innovative uses of the Japanese Language)
Tempting treats to tantalize the tongue; laundry faster than a speeding train.
17
Political Cartoon
Japan's coalition government pulls together and takes on France.
62
Book Review: The Brothers: The hidden world of Japan's Richest Family
An epic tale of money, greed, and power -- and it's all true. Lesley Downer documents the incredible story of the Tsutsumi family, owners of the vast Seibu empire.
63
On the Bookshelf
Recently released books about Japan.
64
Computer Corner
The Sony Data Discman -- a virtual reference library that weighs little more than a pound.
94
Basic Japanese: Forms of desire
You can't always get what you want -- without using the proper forms, anyway..
100
Translator's Note
Translator Editor Wayne Lammers warns against pronoun dependency.
101
Vocabulary Summary
7
Publisher's Note
14
Letters
15
Bloopers
102
Classifieds