Beri- Beri- Shoshinsha for Absolute Beginners of Japanese [Digital Download]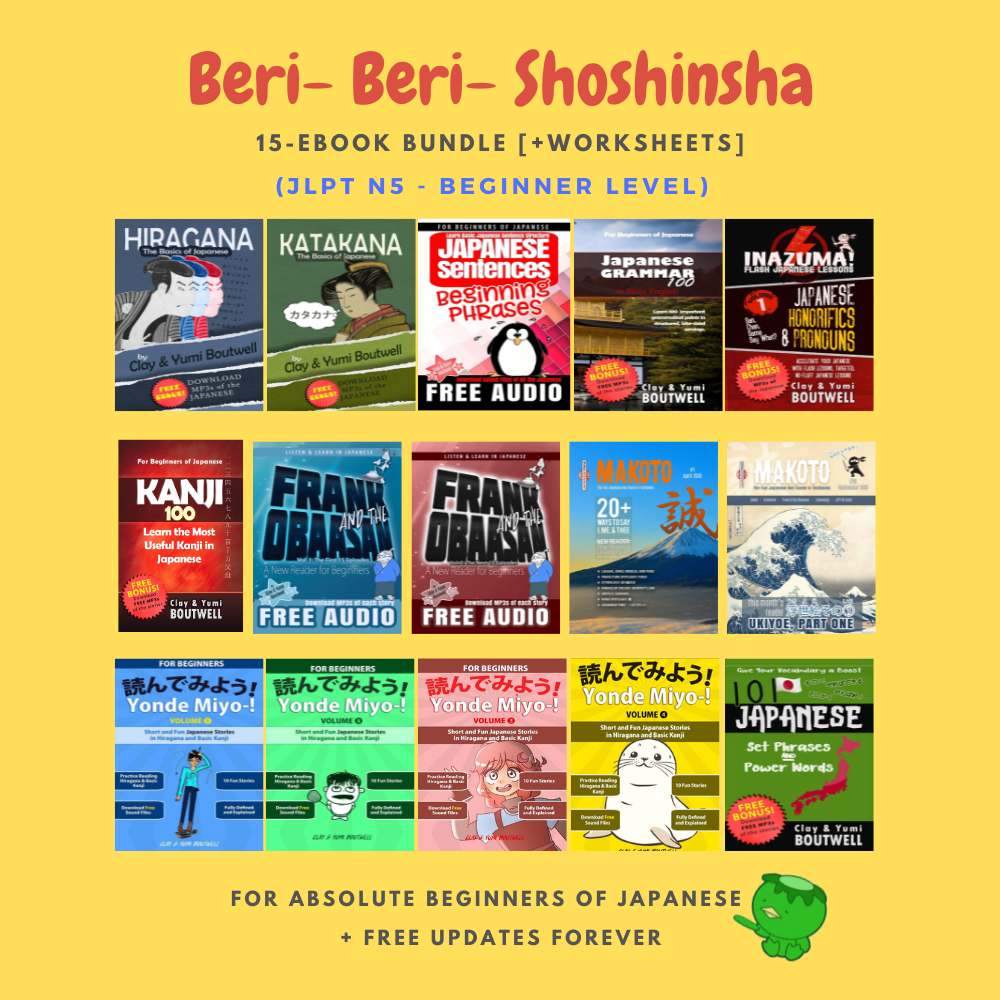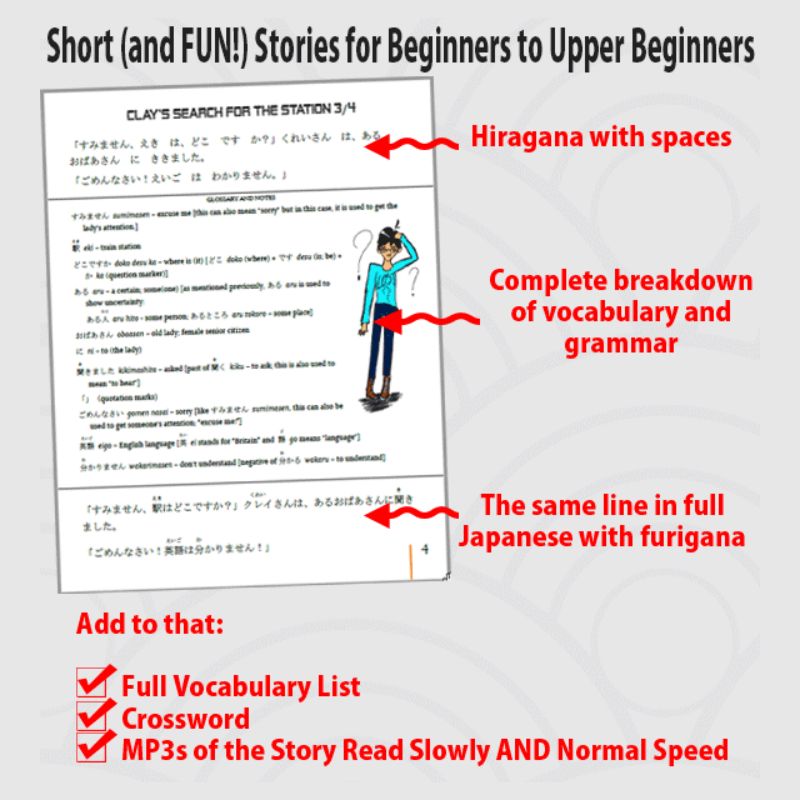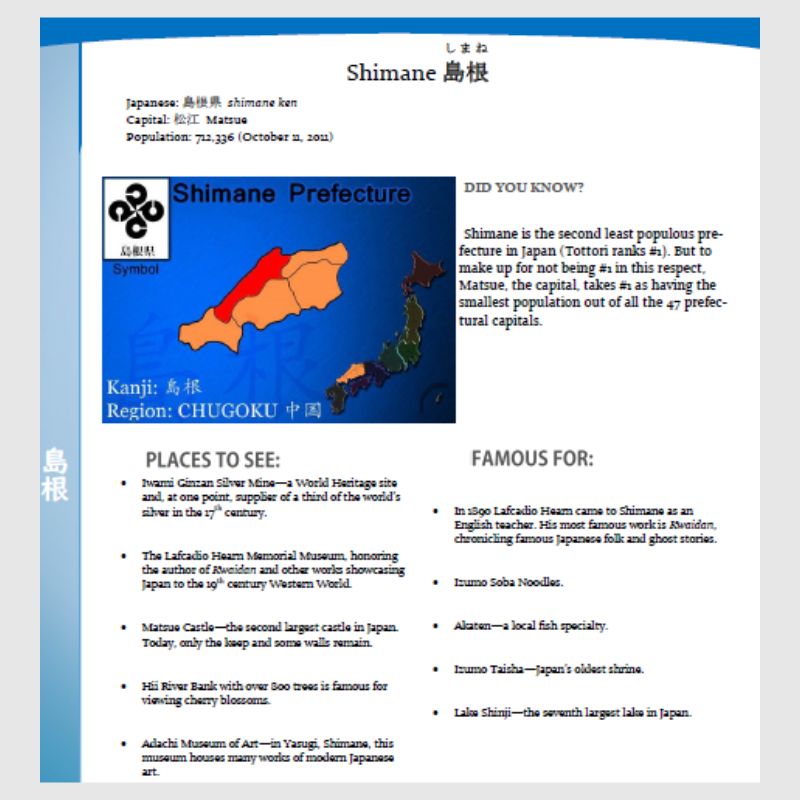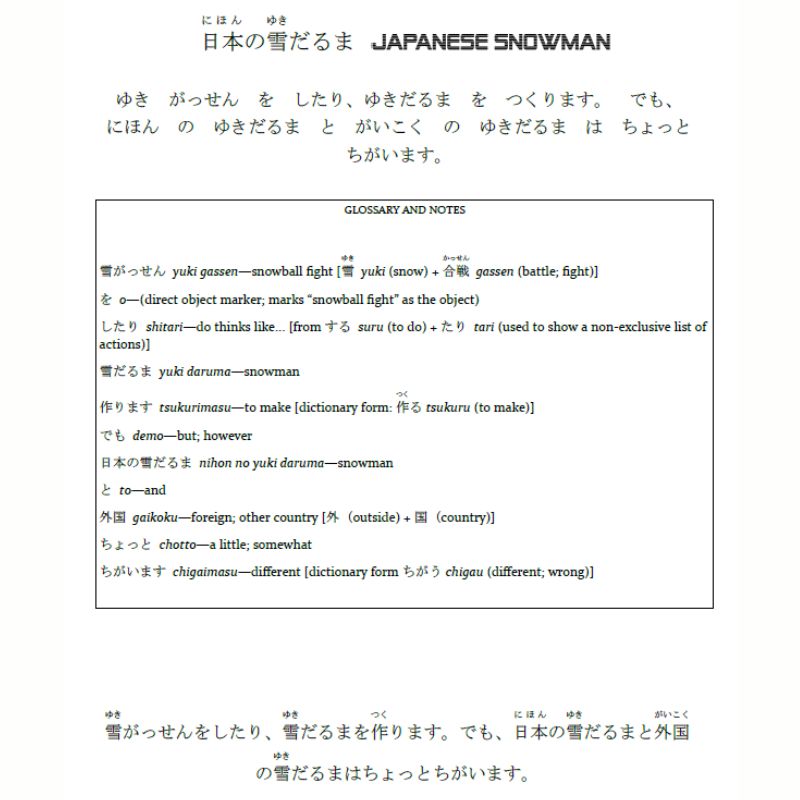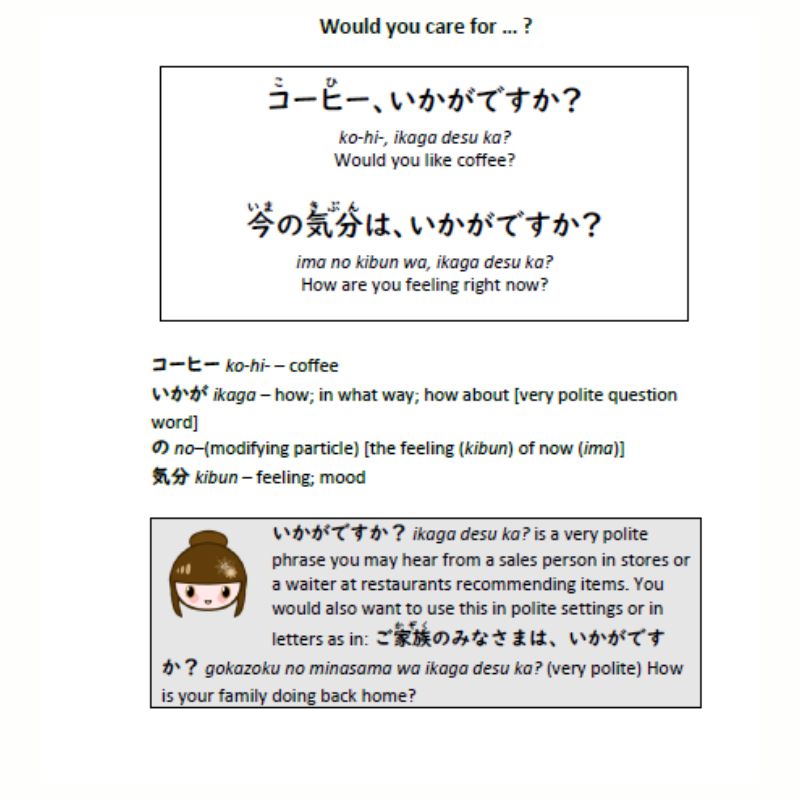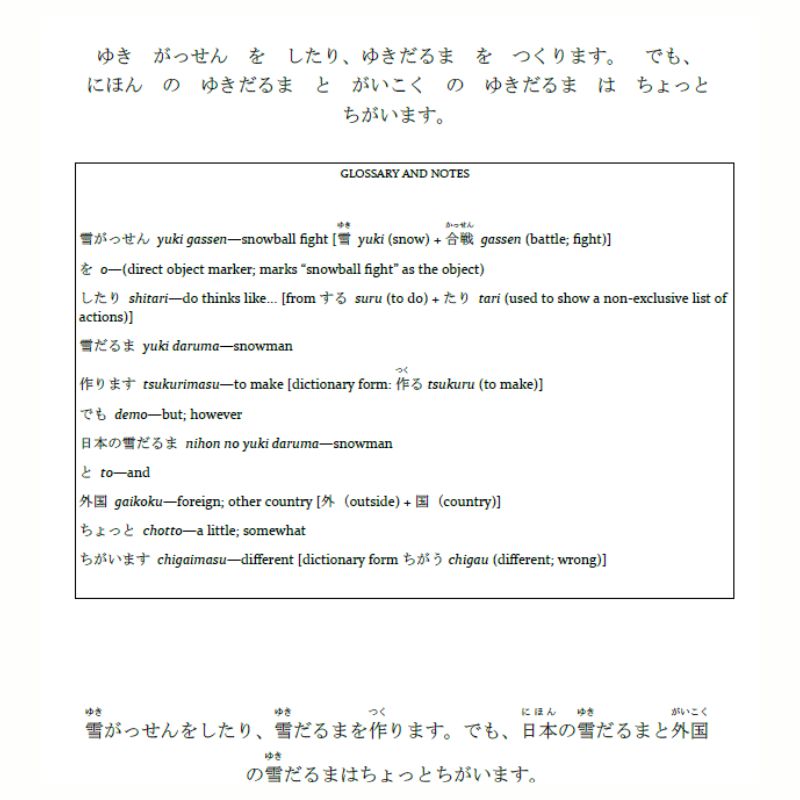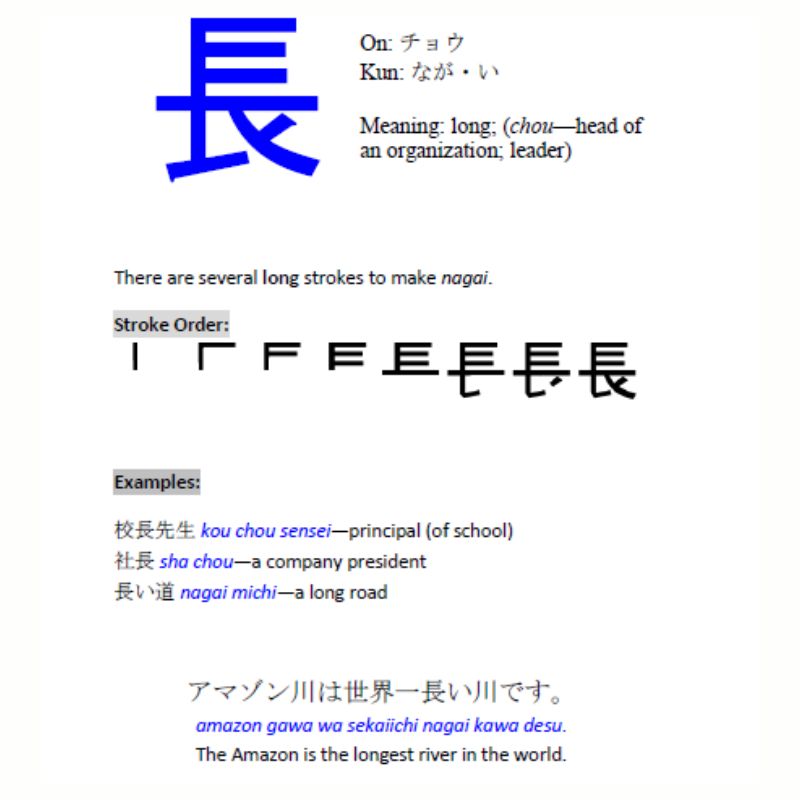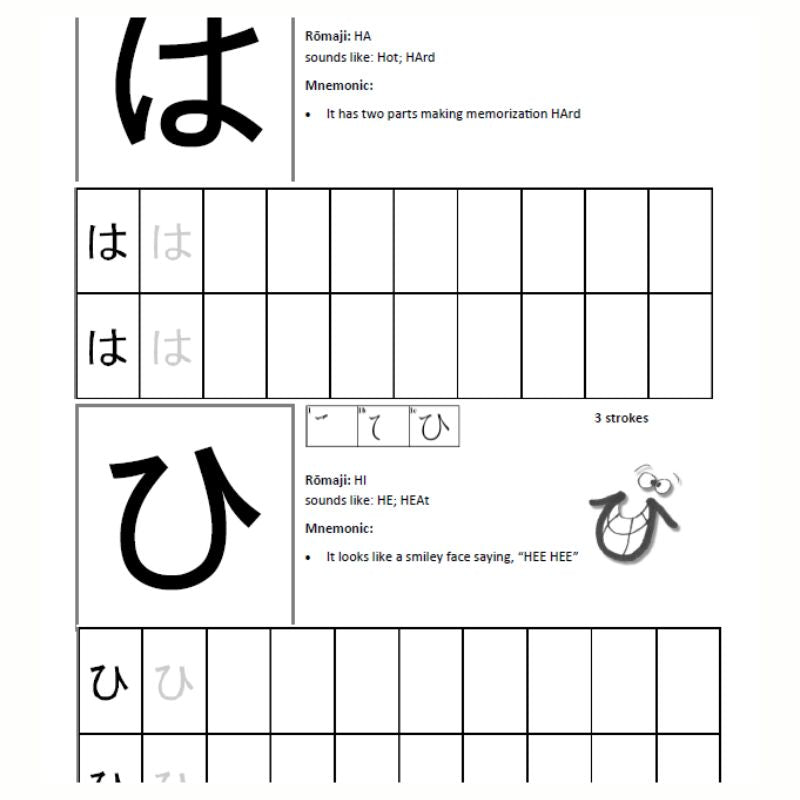 NEWLY UPDATED!
We just added SIX new stories to the Yonde Miyo~ section of Beri- Beri- Shoshinsha. That gets us up to 41 stories--AND THAT'S JUST ONE SECTION (in this bundle). If you've bought this bundle, please download the new PDF or ePub and sound files in the Dropbox link you received when you purchased the bundle--or email us if you have trouble finding that link. We are also emailing past customers with this update 
NOTE: This 13-book self-paced learning Japanese study guide (+ Worksheets) is ON SALE + FREE Lifetime updates! For just ONE-TIME PAYMENT ONLY, you will get this bundle for a very low price. We will increase its price when we add more content to it. But if you get this now, future content will be FREE FOREVER.
Beri- Beri- Shoshinsha is more sequential and has a suggested path for studying and specifically designed for a total beginner of learning Japanese language.
➡️ How to read the eBooks in your bundle? You may need to follow the steps outlined in our eBook guide
P.S. All our bundles have:
✅ Multiple formats (PDF, ePub, MP3s, plus many have Anki flashcard decks)
✅ One-time payment
✅ Discounted compared to buying individually on Amazon
✅ Free lifetime updates to this bundle
✅ Instant download gratification

****Satisfaction guaranteed--seriously, if you aren't happy with it because it's too easy or difficult, just let us know and we'll refund the money or swap it out with a bundle better suited for you.****
A Digital Toolkit for (very) Beginners of Japanese with MP3 Sound Files of all the Japanese
WHO IS THIS FOR?
Total beginners and "eternal" beginners. Are you struggling with hiragana? Know all the kana but need to improve your reading comprehension? Our Beri- Beri- Shoshinsha beginner's bundle of digital books and resources will not only help you with those but also Japanese grammar, vocabulary, kanji, and listening comprehension.
If you have never studied a lick of Japanese, this is for you. If you feel like you are an "eternal beginner," this is for you. If you are studying for the Japanese Language Proficiency Test (JLPT) N5, this bundle is also for you.
Japanese reading practice for beginners
In addition to foundational topics, Beri- Beri- Shoshinsha also contains dozens of short stories to practice reading hiragana and even simple kanji.
INCREDIBLE VALUE
Get 13 eBooks and resource packs for one low price and all with sound files.  Pay once and get lifetime updates including updates and supplementary material.
WHAT'S INCLUDED?
Introduction to Japanese [Exclusive to this bundle]

Hiragana, the Basics of Japanese *

Hiragana Worksheets [Exclusive to this bundle]

Katakana, the Basics of Japanese

Inazuma 1: About Japanese Pronouns

Frank & the Obaasan Volume 1 [a beginning reader]

Frank & the Obaasan Volume 2 [a beginning reader] 

101 Japanese Set Phrases & Power Words [Now includes Anki flashcard deck]

Hiragana Readers Yondemiyo hiragana and N5 kanji readers [35 are available now--many more to come soon!] NEW!

Japanese Sentences: Beginning Phrases
 * All of the above are exclusive to this bundle except the two MakotoMagazine issues (which are also found in the value bundles Volume 1 and Volume 4) and The Hiragana, the Basics of Japanese book (which is also in our Japanese Reader Collection). The Frank and the Obaasan series is also found in its own, but this is the best value overall. All other titles and worksheets are only found here.
All titles include sound files!
For beginners of Japanese--even (especially) those just starting out
Once you learn hiragana, next comes practice, and this bundle includes tons of fun practice. We call these stories "Yonde Miyou" which means "try to read" or "let's read."
Each story or essay is short and interesting. No Dick and Jane or boring fluff. Read about common (and funny) mistakes foreigners make in Japan or Japanese. Learn about unusual aspects of Japanese culture.
Each story is presented three times. Once in hiragana only with spaces. Once in full Japanese but with furigana over every kanji. And lastly, the story is presented again without furigana. Oh, and every word and grammatical pattern is defined and explained.

 There are over two dozen of these stories. And that's just one section of Beri- Beri- Shoshinsha!
ABOUT THE TITLE
The name is a play on two English words plus the Japanese word for "beginner". ベリー
beri-
sounds like "very" and "berry" and 初心者 shoshinsha means "beginner" in Japanese (see the breakdown of that word below). 
So, ベリーベリー初心者  (
beri- beri- shoshinsha
)  can mean "very very beginners" or "berry berry beginners." The name isn't particularly meaningful, but it is cute and we like it. :)
Buy this bundle now, Pay once and get lifetime updates including future contents and supplementary material.
Please Note:
This is the digital version of the books. There will be NO shipping charges since nothing will be shipped :)

You will receive a Dropbox link which can be accessed from any device (phone, tablet, or computer) instantly. If you are on a computer, you can download it all by clicking on the Download button at the top right.
You do not need to have a Dropbox account to access or download the files. 
If you don't see the email after order, please check your spam folder or email us for support.
Great Value!
So much info in this package! The printable practice sheets for Hiragana and Katakana are worth the package purchase price by themselves, the practice sheets that I found elsewhere cost more than the entire Beri Beri bundle did. Great stuff!
Thanks for the great review! We're so glad you're enjoying it! I'll add more worksheets to the bundle in the near future.
Great structure with full explanations
Every sentence is broken down and explained in easy steps that helps the reader understand the structure of Japanese, something I have found to be missing from other media.
The included worksheets and flash cards means you always have a source available instead of having to scour the internet for them.
You can feel the passion that Clay and Yumi have for the Japanese language in the materials and it helps to keep you progressing.
Thank you for your review! We're so glad you found our Beri-Beri-Shoshinsha useful. If you have any questions or suggestions for future content for that bundle, please let me know. All updates are free!
Fun Learning for Kids!
My 9 year old granddaughter asked me to teach her some Japanese about six months ago. Now she and her 11 year old brother study with my on Zoom for an hour every week.
A few weeks ago, I started using Beri-Beri-Shoshinsha, and we are all enjoying it very much. The short stories are a great way for them to practice reading hiragana, and they always get a laugh out of "Kurei-san's" misadventures in Japan.
The sentences and dialogues feel very natural, and serve as a good introduction to Japanese grammar and syntax.
Since the stories (so far) seem to highlight unique features of Japanese life and culture, the children find them fascinating.
Much more interesting than Rosetta Stone, and much more realistic than DuoLingo.
Thanks!!!
It's wonderful to know that your grandchildren are enjoying Beri- Beri- Shoshinsha! That they appreciate my humor enough to use the stories for learning is very satisfying. :)
The later stories are more essays about aspects of Japanese culture (and less silly), but I'll try to add more 'Clay misadventures' soon. They might enjoy Frank and the Obaasan after they exhaust Yonde Miyo~. It's weird but cute, I think.
Excellent study materials are easy to follow and to the point.