Learn Japanese through Dialogues (7 ebook bundle)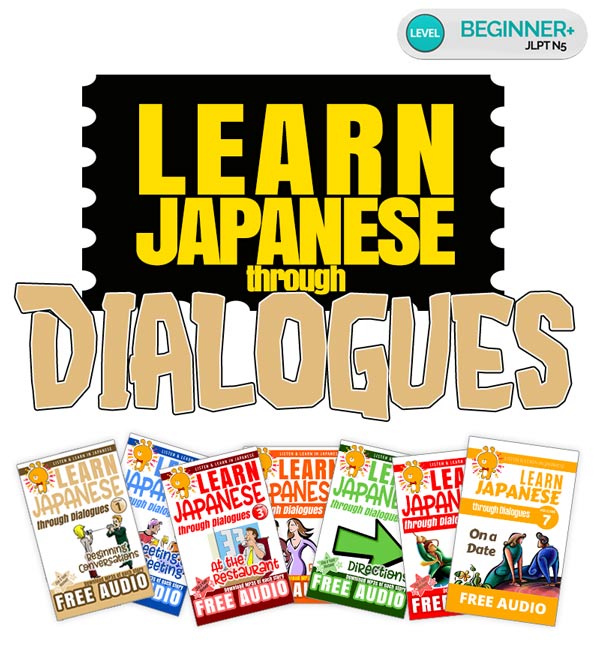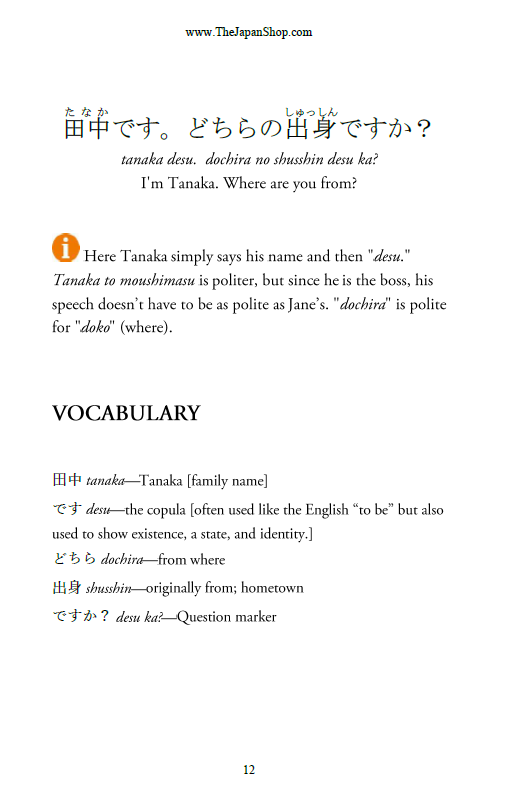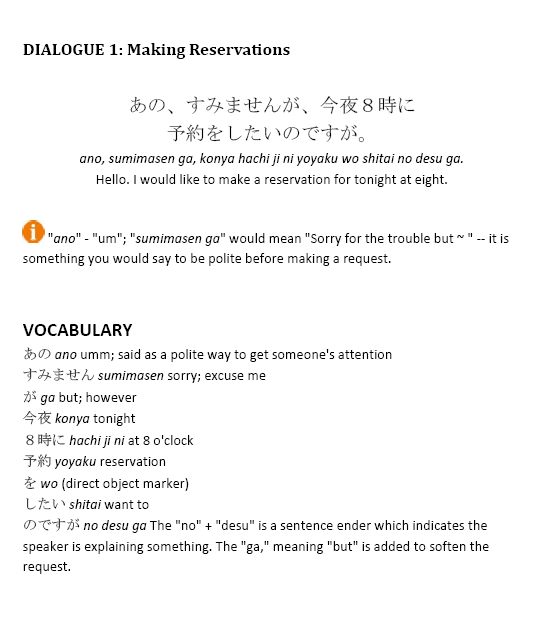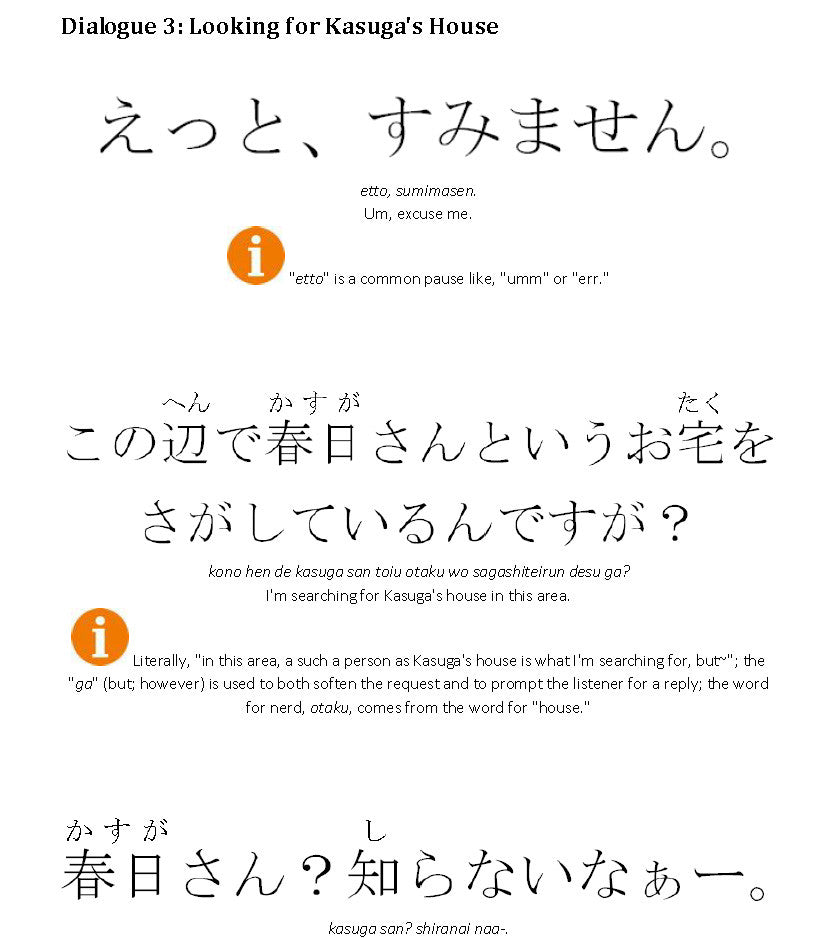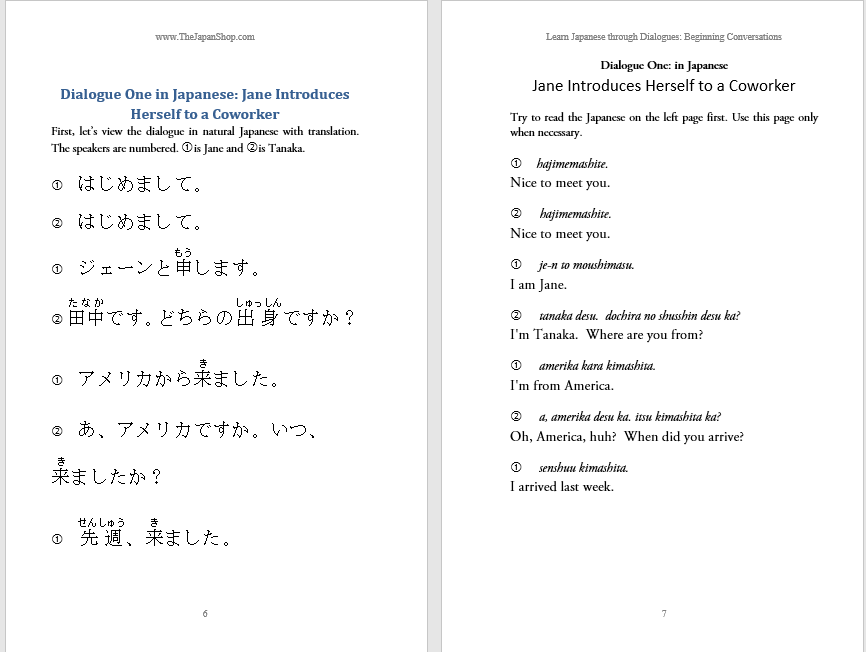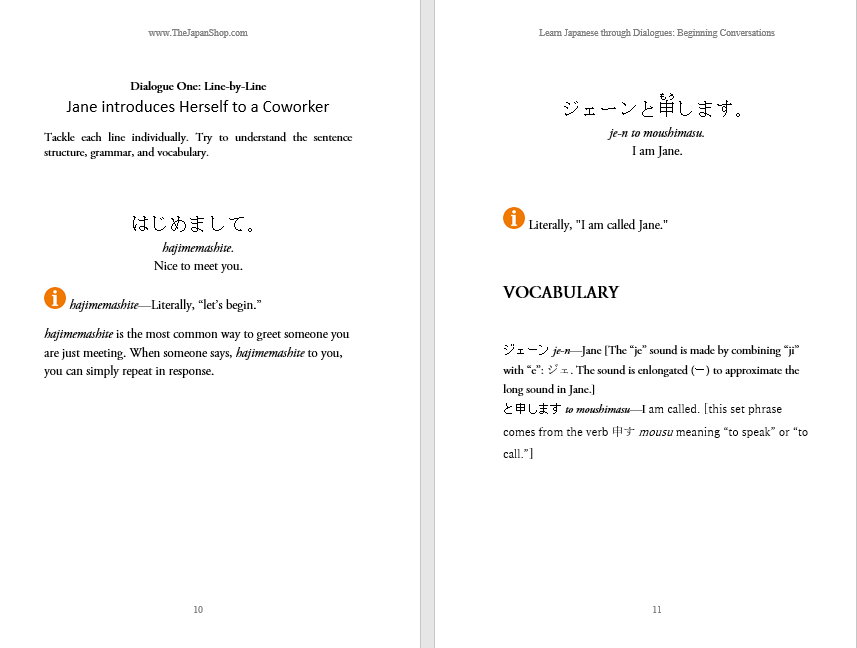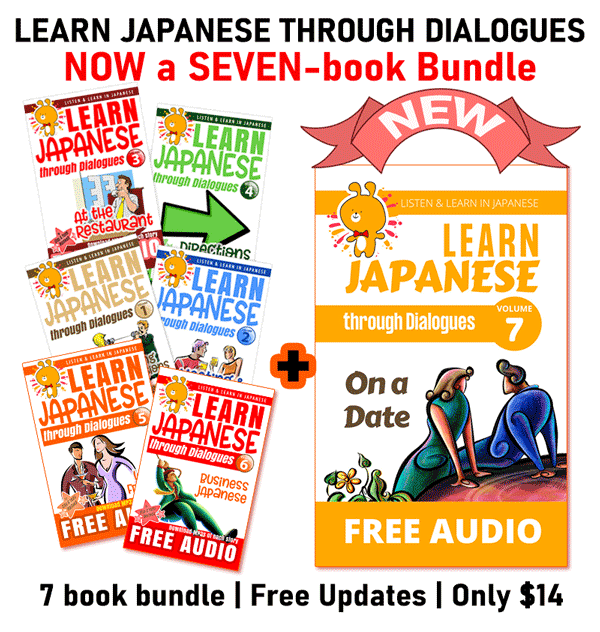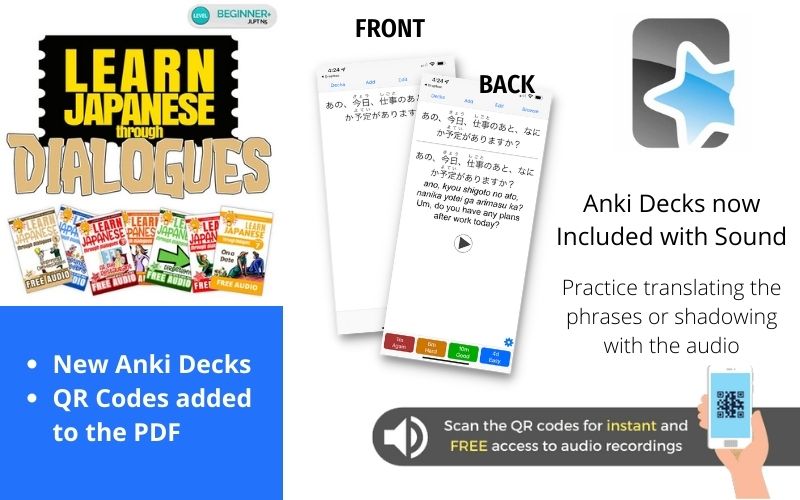 Newly Updated!
NOTE: This 7-book self-paced learning Japanese study guide is ON SALE + FREE Lifetime updates! For a limited time, you will get this bundle for a very low price. We will increase its price when we add more content to it. But if you get this now, future content will be FREE FOREVER.
➡️ How to read the eBooks in your bundle? You may need to follow the steps outlined in our eBook guide
P.S. All our bundles have:
✅ Multiple formats (PDF, ePub, MP3s, plus many have Anki flashcard decks)
✅ One-time payment
✅ Discounted compared to buying individually on Amazon
✅ Free lifetime updates to this bundle
✅ Instant download gratification

****Satisfaction Guaranteed--seriously, if you aren't happy with it because it's too easy or difficult, just let us know and we'll swap it out with a bundle better suited for you.****
Get all SEVEN Japanese Dialogues study packs for one low price. Separately, these eBooks (also include MP3s as well as Kindle, ePub, and PDF versions) would cost $34.93 at Amazon. Get all seven here for a major discount! 

Finally, a fun and easy way to learn REAL conversational Japanese!
We are including, at no extra charge, sound files for all the dialogues found in this book. Listen on demand with the QR codes found in the book or download the files to your computer. The download link is found on the last page.
The dialogues is presented naturally and all in Japanese. This may be too fast for you at first but try listening to it a few times to attune your ears.
As you master the vocabulary and understand the grammatical points mentioned in the book, you may find what was difficult upon first hearing is easy the second (or tenth!) time around.
The bonus files also includes a free Anki flashcard deck with the phrases found in this book. Download the Anki software for free here: https://apps.ankiweb.net/
Use the Anki deck to practice translating the phrases or shadowing the speaker—the sound file will automatically play on the back card.
--
This bundle of eBooks includes 47 dialogues in 7 books under these main categories:
Beginning Conversations

Meeting & Greetings

At the Restaurant

Directions

With Friends

Business Japanese

On a Date - NEW!
Each eBook has three different formats depending on the device you use.
The formats are:
PDF (best for larger screens like computers, laptops, and tablets)
Kindle MOBI (best for Kindles and Kindle apps on mobile devices)
ePub (best for all other ebook readers on mobile devices.
Each book also contains MP3 sound files of the Japanese.
New!

 

Anki flashcard deck to practice translation and pronunciation through shadowing
New!

 

QR codes added to the PDFs -- will be added to the ePub and MOBI files soon.
PLUS: Get FREE updates for life. When we add new books to this series, you'll get that too. Of course, as we add more books, the price will also go up!
Please Note:
This is the digital version of the books. There will be NO shipping charges since nothing will be shipped :)

You will receive a Dropbox link which can be accessed from any device (phone, tablet, or computer) instantly. If you are on a computer, you can download it all by clicking on the Download button at the top right.
You do not need to have a Dropbox account to access or download the files. 
If you don't see the email after order, please check your spam folder or email us for support.
Ottime risorse
Queste risorse a prezzi così accessibili sono ottime. Per ora ho acquistato solo quelle più semplici ma andrò avanti e continuerò ad acquistare da questo sito man mano che le mie capacità nella lingua aumenteranno. Davvero ottimo sito.
Easy to download and access
Super way to learn Japanese
Reading, vocab, and oral comprehension built into one. And, you address Kanji head on. Wish I had a similar resource when starting Chinese and Korean. Would have saved oodles of time and frustration. teaches real, contemporary Japanese., too. Could not be more satisfied. Five Stars.
Thank you! I'm glad it is helping.
Perfect for starters!
The dialogue format is great for learning piece by piece, short but filled with expression ranging for simple to more complex expressions all accompanied with insights of japanesse culture and grammar bits to better understand the language in a broader way. On top of it, the audio files to practice hearing and pronunciation. The variety of options on how to work with the material is very appreciated too. I find some of the more complex lines of dialogue a little to fast for me but is part of the challenge and I find a little weird the change of audio files are handled on the 2nd book being the only one with extra information but very appreciated all the same!