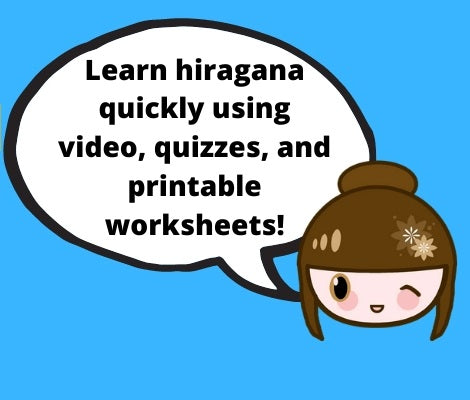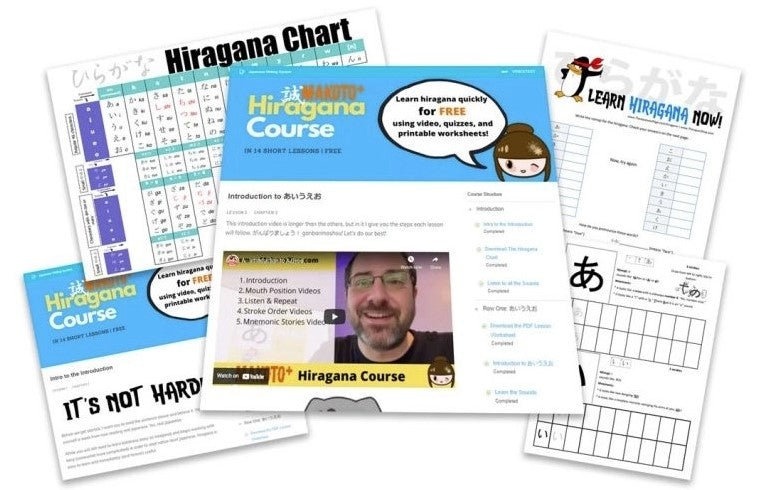 Be a Hiragana Master in 14 Easy-to-Follow Sections
Master hiragana once and for all with this easy-to-follow and, for a limited time, totally free course. In 14 short lessons, we'll cover everything you need to know to thoroughly learn hiragana.
This course includes our popular book, Hiragana, the Basics of Japanese, for free!
We've sold thousands of copies of that book, and you get it absolutely free with this course!
Getting started with Japanese is exciting, isn't it? It's exotic. It's cool--the language of manga and anime, Godzilla and Ultraman, samurai and ninja, and, of course, Hello Kitty.

But do you worry you aren't getting the basics down correctly? What about your pronunciation? 
This course is here to the rescue. 
You, too, can become a hiragana master in less than two weeks.
What is this course about?
We'll take you step-by-step through all 46 base characters plus the variations.
By the end of the course, you will:
Know

 

all hiragana characters well
Know

 

the correct stroke order for all the characters
Be

 

confident

 

you have the correct pronunciation
Be able to

 

read real

 

Japanese

 

(understanding comes with learning vocabulary)
Have a good understanding of your next steps
This course includes:
Online videos walking you through each step from start to mastery.
Interactive quizzes to test your knowledge.
Our 76 page book:

 

Hiragana, the Basics of Japanese

 

[yours to keep even though the course itself is all you'll need].
Dozens of printable PDF worksheets.
A full color printable hiragana chart.
Who is this course for?
If you've never studied a lick of Japanese, this Learn Hiragana Course is for you.
If you've studied hiragana before, but you have trouble recalling hiragana or you aren't sure of the sounds, this course will be a great review for you.
Thank you
Thank you Japan Shop for this free Hiragana course, it is amazing. I was able to learn Hiragana for one day and I continue to practicing it. This course was helpful to me to remember Hiragana
That's great! I'm glad it helped. One day! Now you have to read a lot to make it stick.
Thank you for this nice course!
I was able to learn the Hiragana characters in 1 week and I passed the exam that my instructor gave me. Very helpful because lessons are easy to follow and understand. Thank you so much for the free course!
Wow! That's awesome. Congratulations. :)
Be sure to read as much as you can to build speed in recognition. If you don't use it, you'll lose it. If you don't have our Beri- Beri- Shoshinsha digital bundle, please check it out. It has tons of reading practice for hiragana and simple kanji.
Again, congratulations! This is wonderful to hear.
Another great product
Like every course from The Japan Shop, this is clear, well-paced, with great explanations. Totally recommendable.
Thank you so much for your kind words :)
Just starting but looking great
having problems with a few of the hirigana, this course is helping me become more familiar and is laid out in a logical and comprehensive way. Thank you
Great! I'm glad it is helping. We will work on more courses soon.