Frog Sumi-e: Basho's Poetic Leap White Mug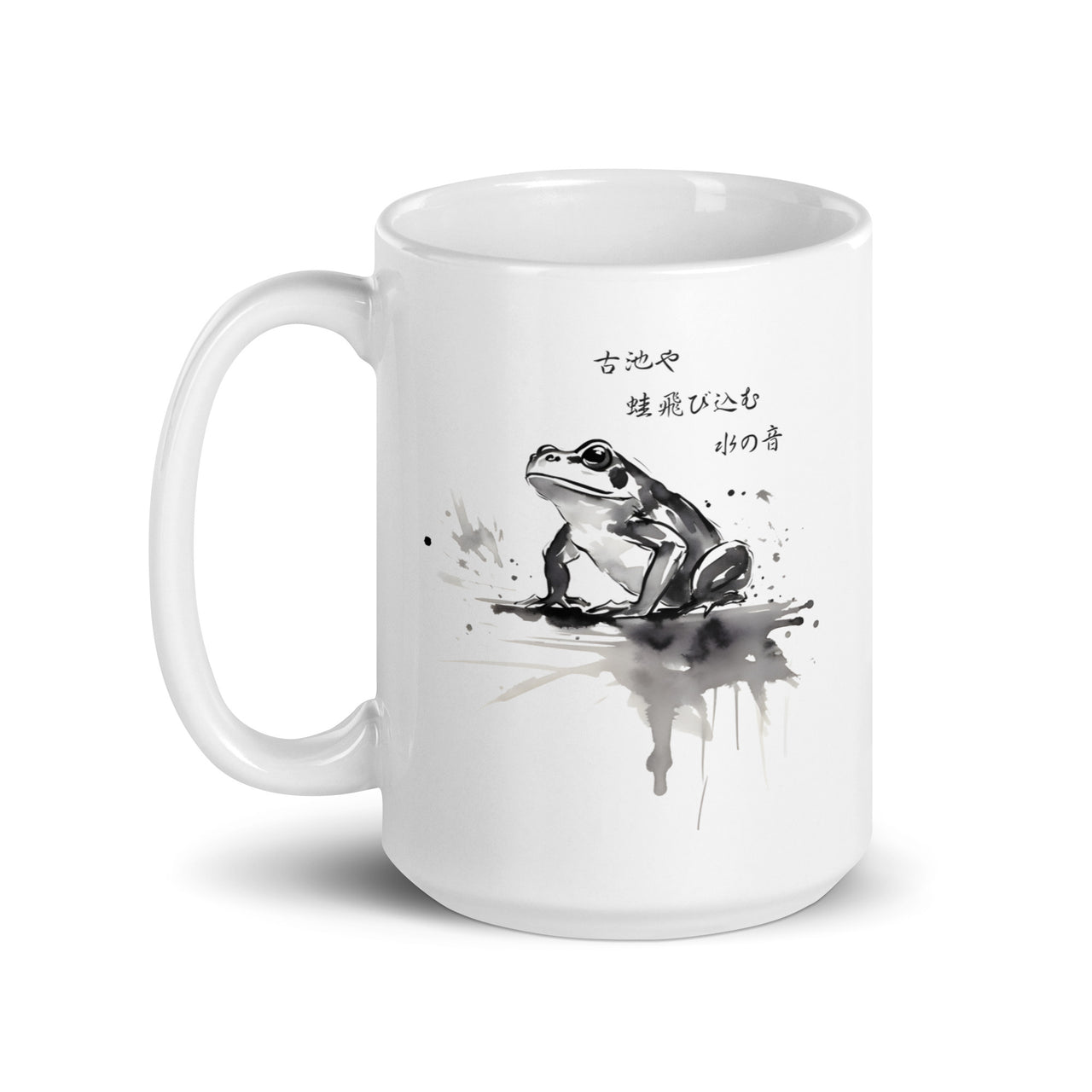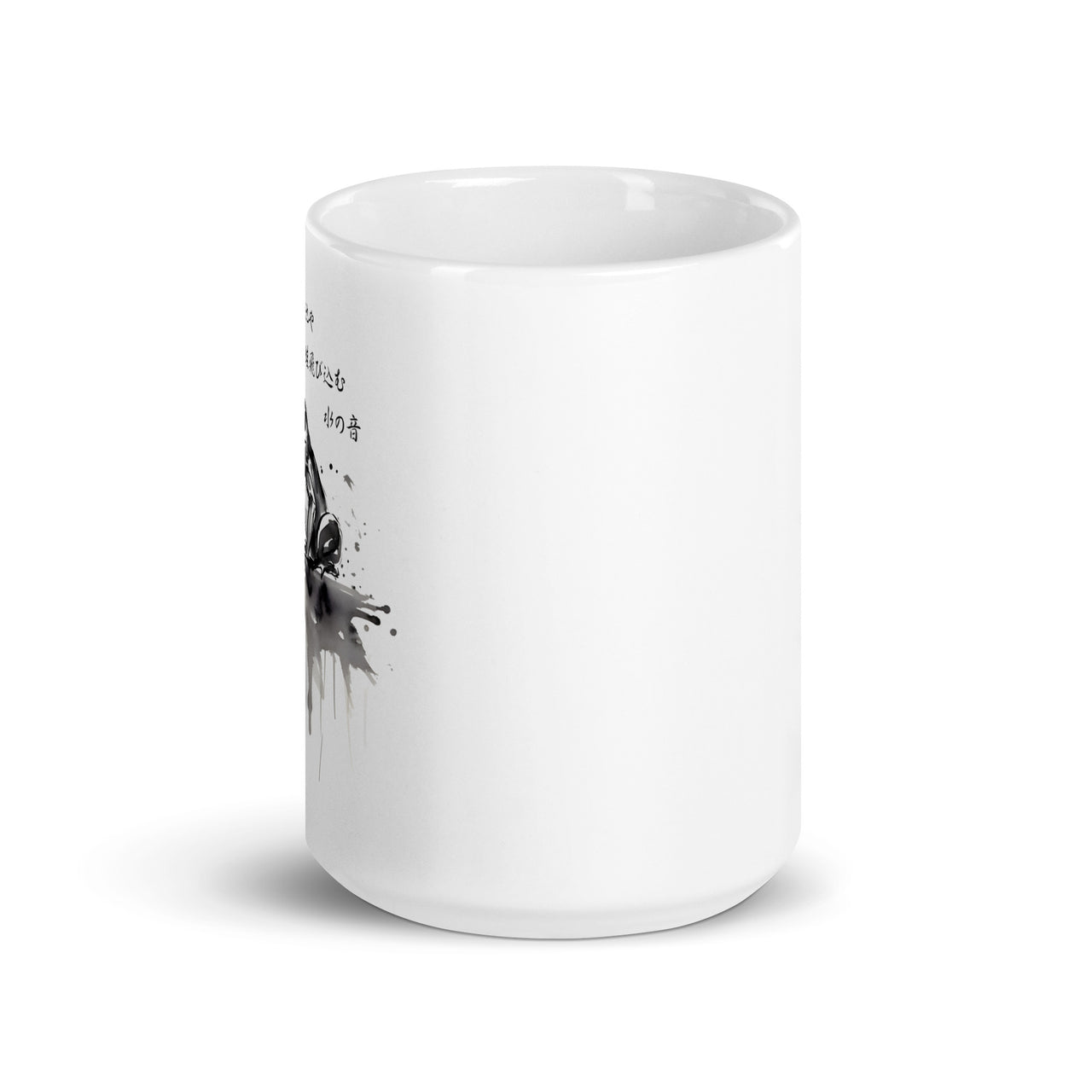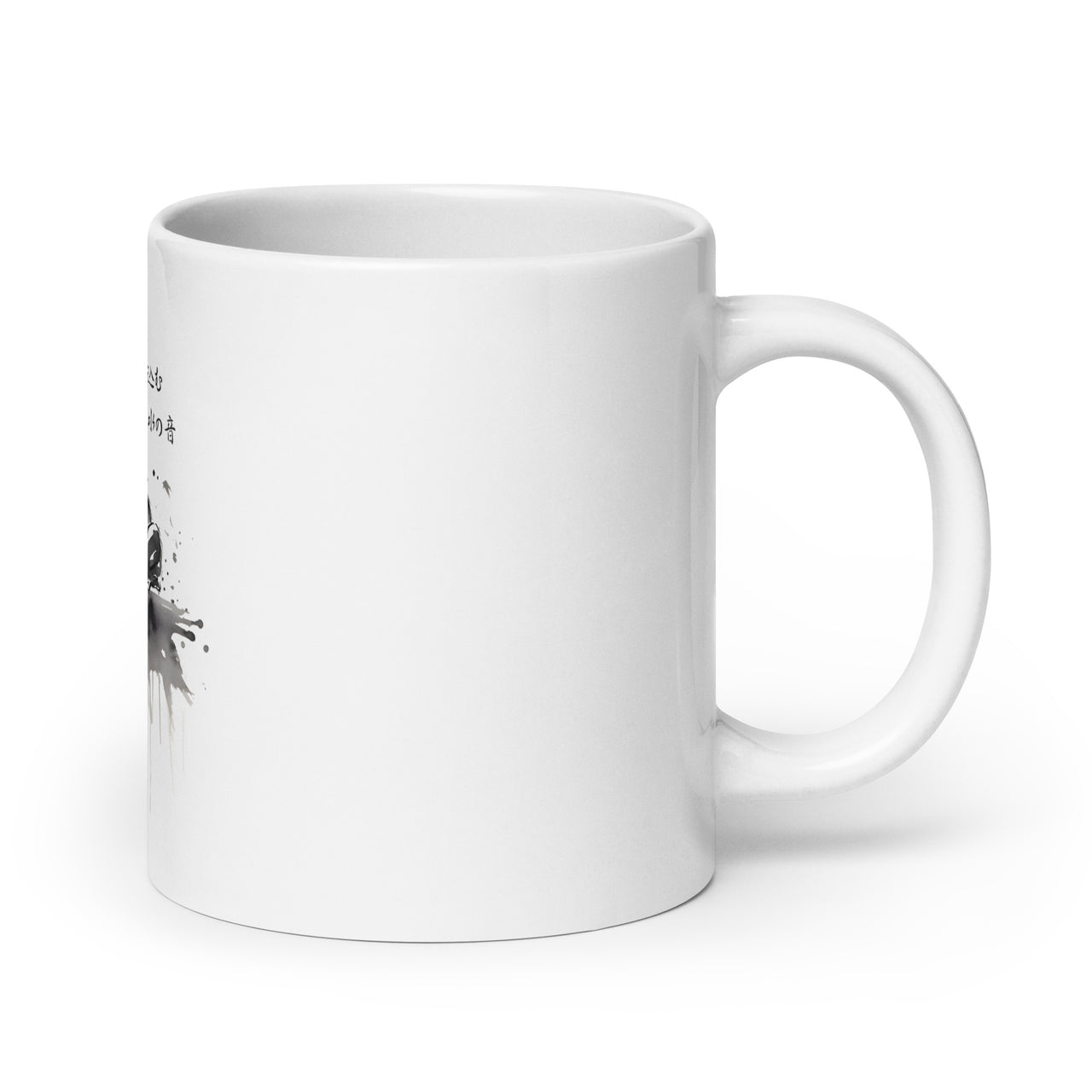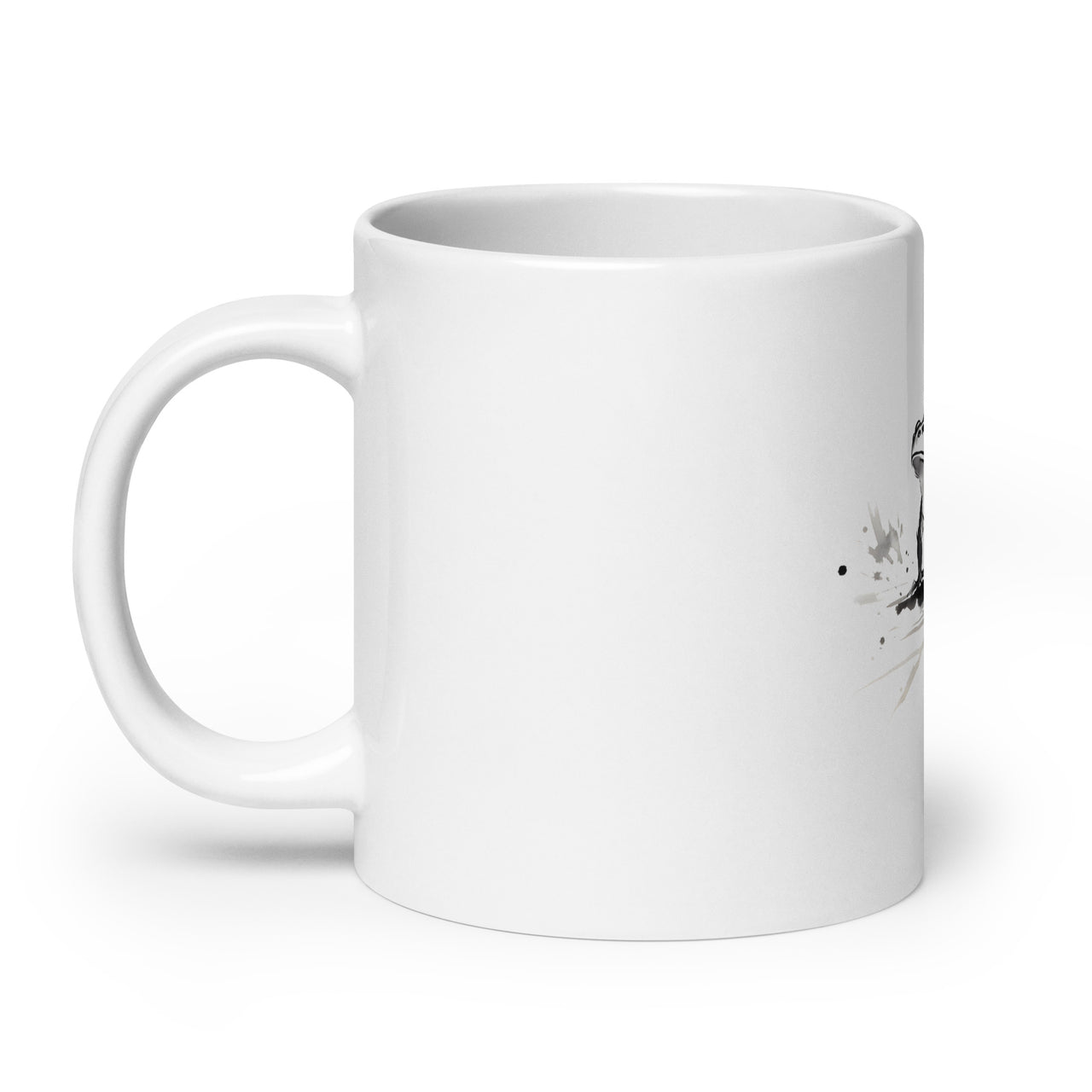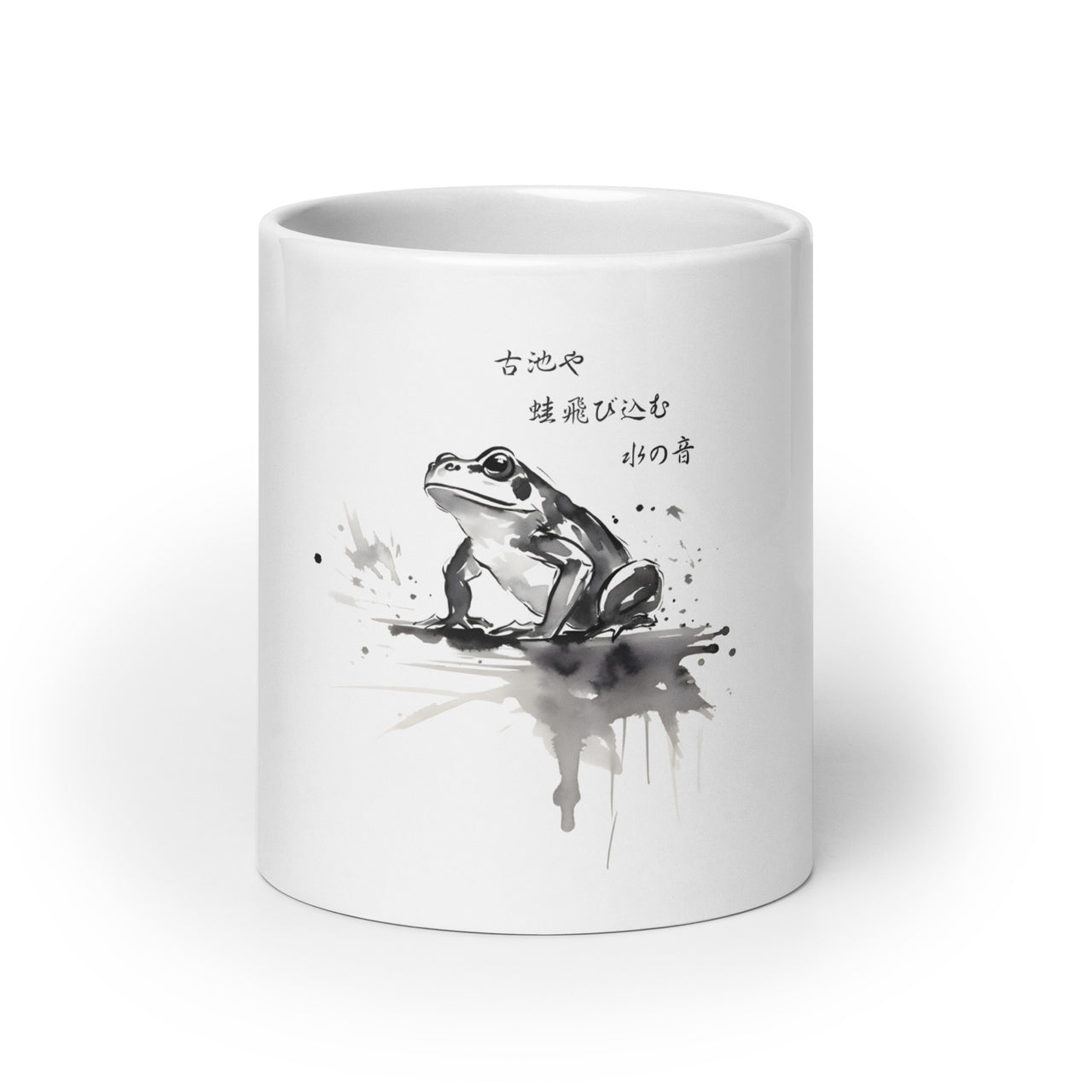 Enjoy the serene world of Basho's poetic frog, rendered in stunning sumi-e ink style. This one-of-a-kind design captures the ephemeral beauty of nature and the deep traditions of Japanese haiku.


古池や、蛙飛びこむ、水の音
furuike ya, kawazu tobikomu, mizu no oto.
Old pond / A frog jumps in / Splash! / Silence again.

This may be Basho's most well-known poem. The poet wanted to emphasize the stillness of the air before and after the frog's splash. Hence the "silence again."


古池(ふるいけ) old pond [This sets the tranquil, timeless scene]
や a particle indicating exclamation or emphasis [commonly used in poetry and classical texts]
蛙(かわず) frog [かわず is an archaic reading for "frog". In modern Japanese, "frog" is かえる]
飛(と)びこむ to jump in; to leap into [This is the act that disrupts the tranquility; it is made of 飛ぶ (to fly; to jump) and こむ (into; to go into)]
水(みず) water [part of the setting]
の modifying particle [links the water to its sound; it isn't just any "sound" but the "sound of water"]
音(おと) sound [The sound created by the frog's action]

• Ceramic
• 11 oz mug dimensions: 3.8″ (9.6 cm) in height, 3.2″ (8.2 cm) in diameter
• 15 oz mug dimensions: 4.7″ (11.9 cm) in height, 3.3″ (8.5 cm) in diameter
• 20 oz mug dimensions: 4.3″ (10.9 cm) in height, 3.7″ (9.3 cm) in diameter
• Dishwasher and microwave safe
• Blank product sourced from China

This product is made especially for you as soon as you place an order, which is why it takes us a bit longer to deliver it to you. Making products on demand instead of in bulk helps reduce overproduction, so thank you for making thoughtful purchasing decisions!