Frank and the Obaasan Volume 1-2 BUNDLE for Beginners [DIGITAL DOWNLOAD]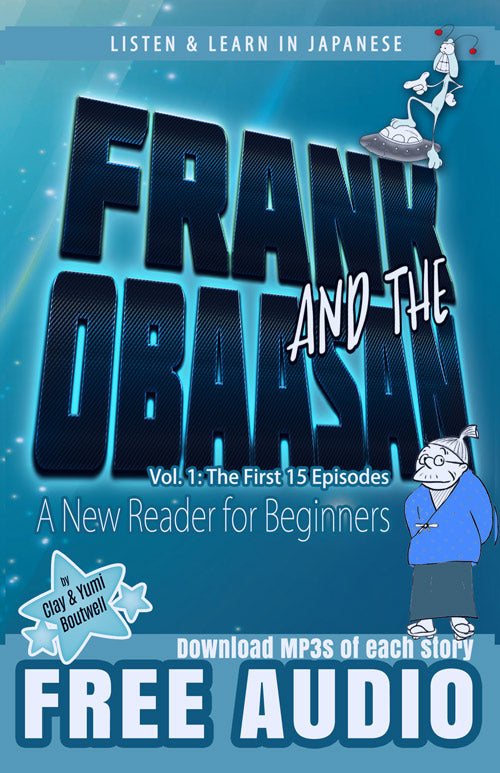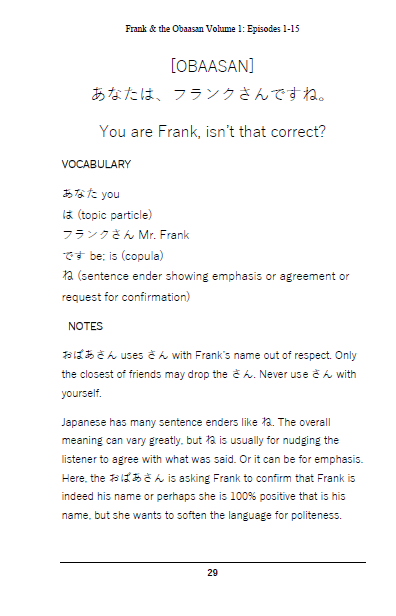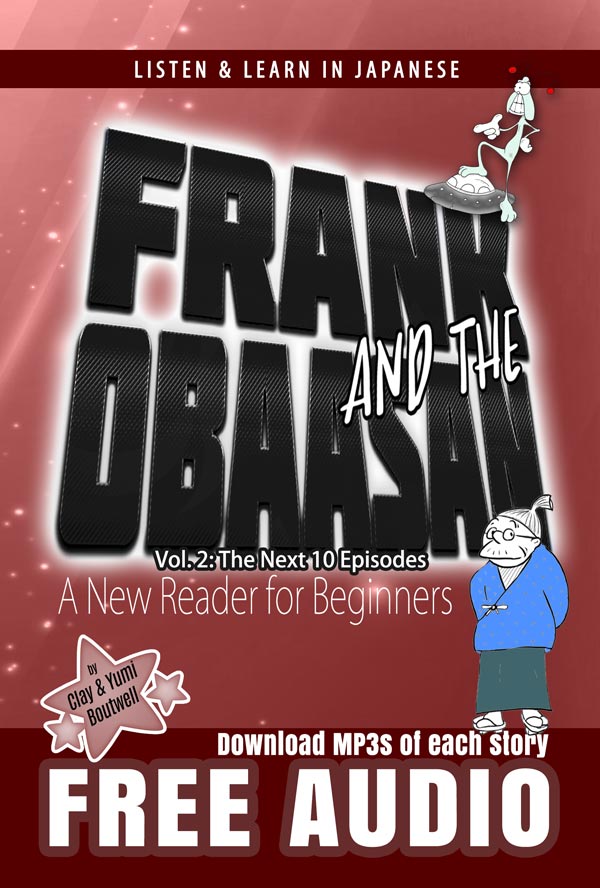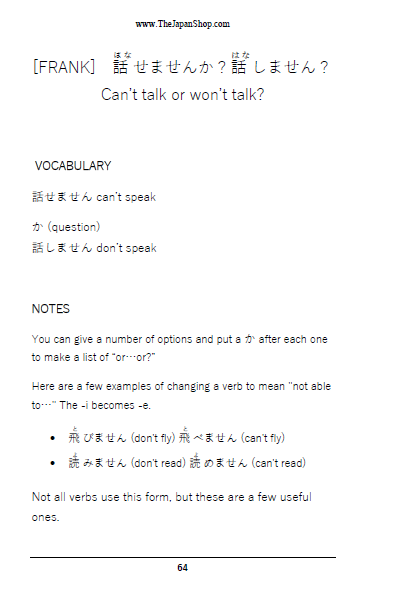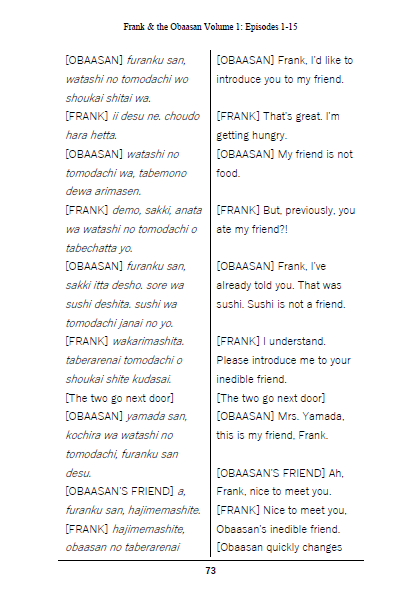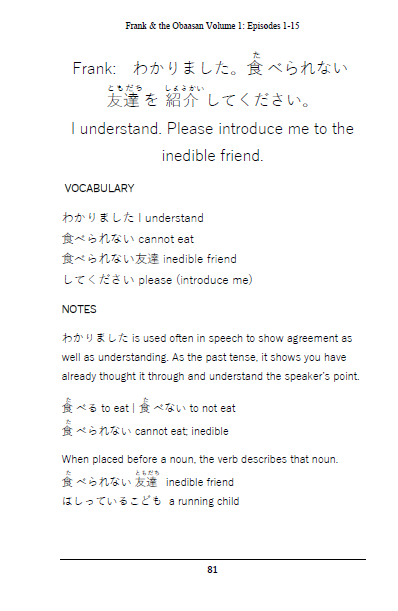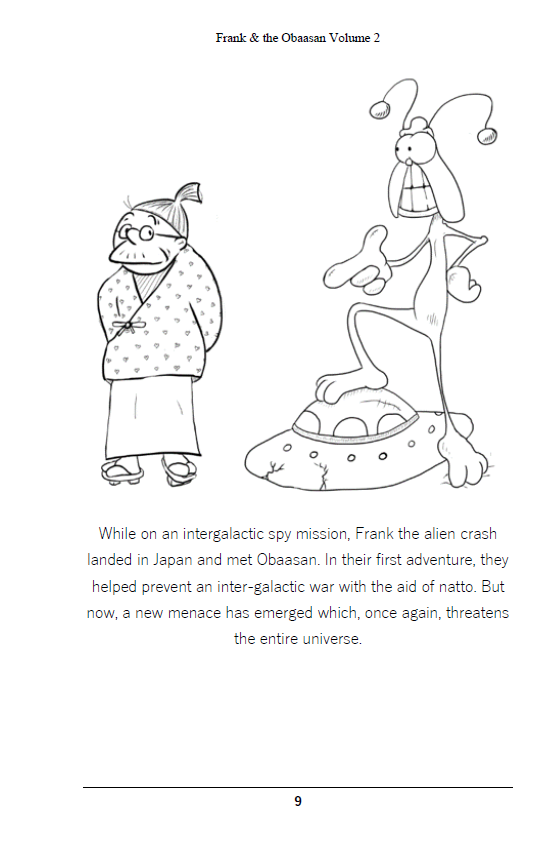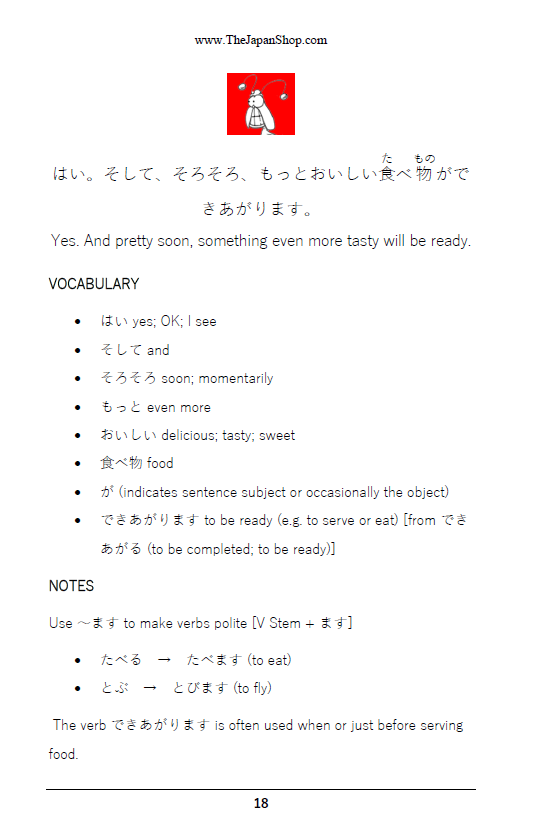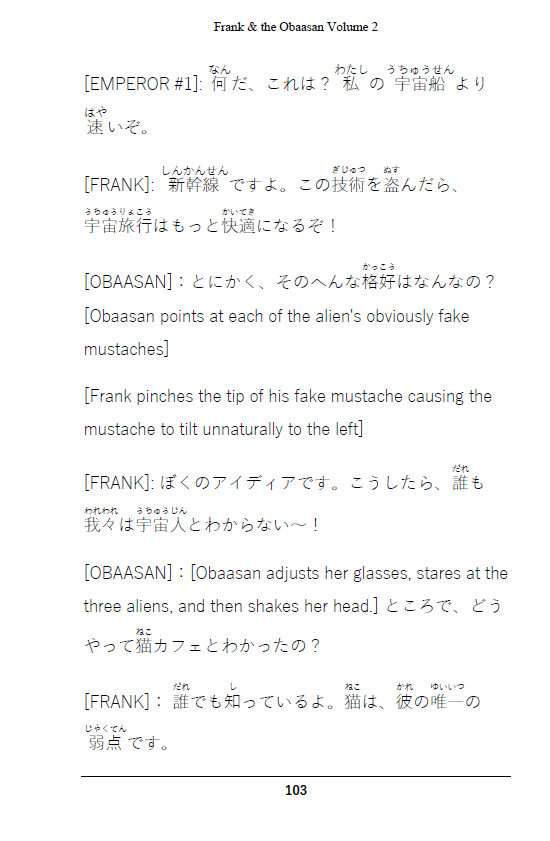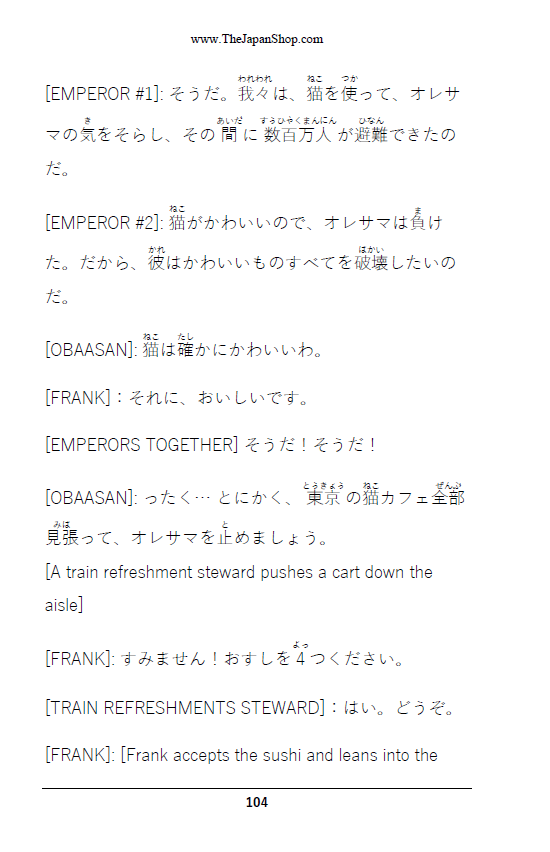 NOTE:  Both Frank and the Obaasan volumes are included in our Beginner's Bundle: Beri- Beri- Shoshinsha; this money-saving bundle contains over a dozen eBooks all with sound files and several eBook formats. Click here to learn more.
➡️ How to read the eBooks in your bundle? You may need to follow the steps outlined in our eBook guide
P.S. All our bundles have:
✅ Multiple formats (PDF, ePub, MP3s, plus many have Anki flashcard decks)
✅ One-time payment
✅ Discounted compared to buying individually on Amazon
✅ Free lifetime updates to this bundle
✅ Instant download gratification

****Satisfaction Guaranteed--seriously, if you aren't happy with it because it's too easy or difficult, just let us know and we'll swap it out with a bundle better suited for you.****
---
READ real Japanese Today!
Are you a beginner to upper beginner level student of Japanese? If so, this reader is for you. Every word is defined and important grammatical patterns are explained in plain English. If you can read hiragana, you are ready for this book.
BONUS! Get FREE Sound Files of each story. Listen while reading. The link to the MP3s is found on the last page.
This bundle is for both volumes of the Frank and the Obaasan saga, a Japanese reader for beginners to upper beginners.
The Stories:
While on an intergalactic spy mission, Frank the alien loses control of his spaceship and plummets to Earth. Japan to be precise. Lacking Essential repair materials, Frank must learn the earthling's language and find earth equivalents of the materials needed to repair his ship.
With only a limited knowledge of Earth ways—and the Japanese language—Frank discovers a number of interesting things, not the least… natto. Join Frank and his new-found buddies in this multi-planetary adventure!
All Japanese kanji characters have furigana (small hiragana over the kanji)
25 complete episodes. 15 from the first volume and 10 from the second.
Each story is presented in real Japanese (with furigana) and with a running gloss which breaks down all vocabulary and grammar points.
Each volume is a complete story arc in which our heroes save the universe.
ENGLISH SUMMARY: Finally, we have included a simple and mostly literal English translation for you to check your understanding (Don't cheat! Work through the Japanese first!).
Short stories makes reading full Japanese texts possible.
Download the FREE MP3s to listen while you study.
Frank and the Obaasan is a fun (certainly not serious) reader for beginners of Japanese. If you are looking for Japanese reading material that is fairly easy but not written for children, this is a resource for you.
Finally, we invite the reader to contact us with questions or requests for future Japanese readers. You will find our personal email addresses in the book. To your Japanese!
What are you waiting for? Ninja up your Japanese. Click "Buy Now" now!
Please Note:
This is the digital version of the books. There will be NO shipping charges since nothing will be shipped :)

You will receive a Dropbox link which can be accessed from any device (phone, tablet, or computer) instantly. If you are on a computer, you can download it all by clicking on the Download button at the top right.
You do not need to have a Dropbox account to access or download the files. 
If you don't see the email after order, please check your spam folder or email us for support.
Fun little read
Really enjoyed reading this, I hope theres more to come!
Good for beginners
Hi, actually I just started to use it. By now I can only say it is a good practice for me from a "reading" point of view, thanks a lot for your help. It is not easy to find this kind of material for starting with japanese language.
Feeling afraid of start reading Japanese? Definitely should try this!
From my point of view this one is way more begginer friendly than kids books since even they are wholly in hiragana (almost) those books uses words you won't see in daily life or in your studying textbooks, despite having done minna no nihongo 1 and 2 and anki decks for a long time now, I totally found it to be super useful.
A series like this way, gradually increasing difficulty, is what I initially looked for, so glad you did.
I'd definitely recommend this set to people who wants to start reading normal Japanese and not words like "little prince" or using おる.
Great for beginners
This should be the first reader for beginners who already know hiragana and some basic Japanese grammar and vocabulary. The first chapters are very easy to understand. Later on the level rises but for beginners it's still okay (I guess).
I also like it that the chapters start with the Japanese text before splitting it up sentence by sentence, so there's less temptation to cheat. Please keep this in your next readers as well.
One thing that irritates me is the lecture at the beginnging of each chapter not to look for the roumaji before reading the Japanese text. Here I think, once is enough. Also it might be a good idea not to repeat the the furigana on and on for already introduced kanji, e.g. after chapter 2, you should know how to read 私, so the furigana could be left out. That goes especially for single kanji. Just an idea for future revisions.
All in one it's a great reader.
つづく?