Japanese Grammar for JLPT N4-Master the Japanese Language Proficiency Test N4 [Paperback]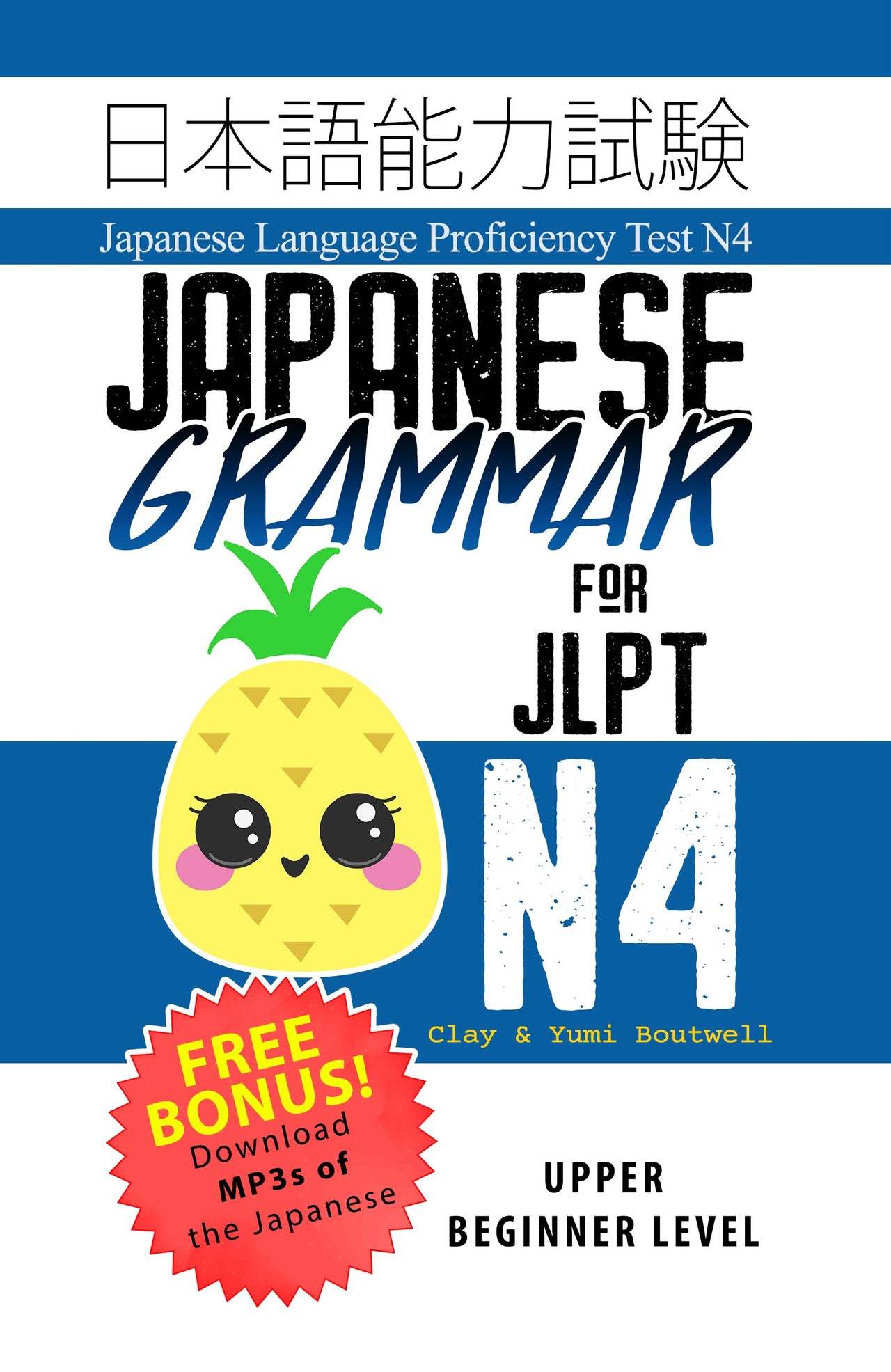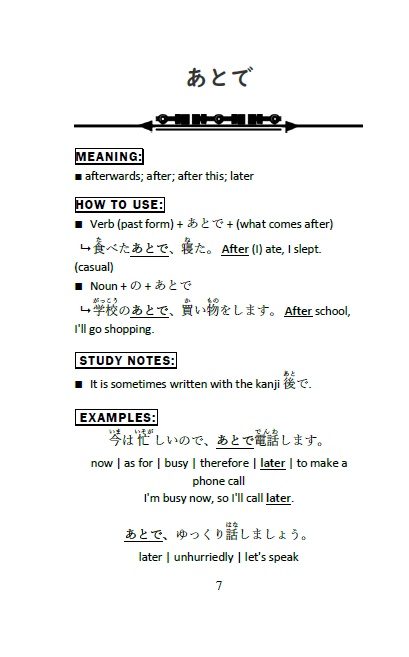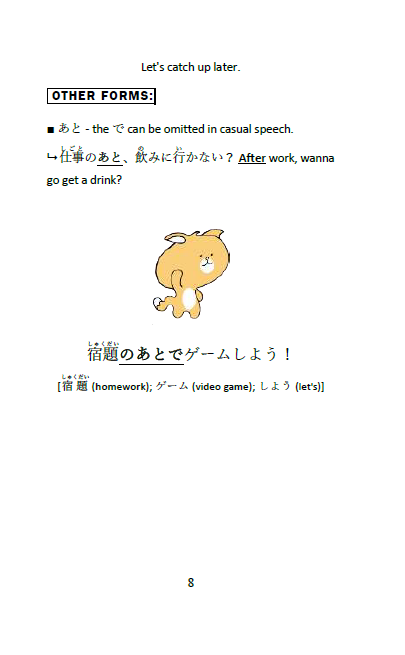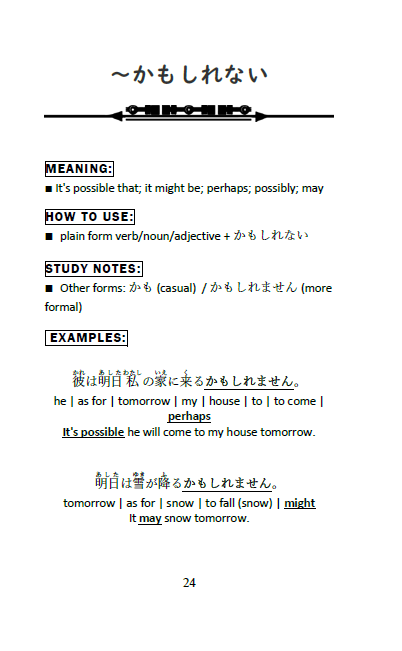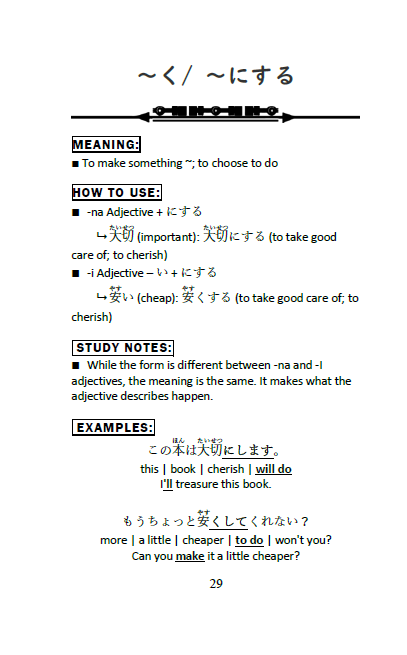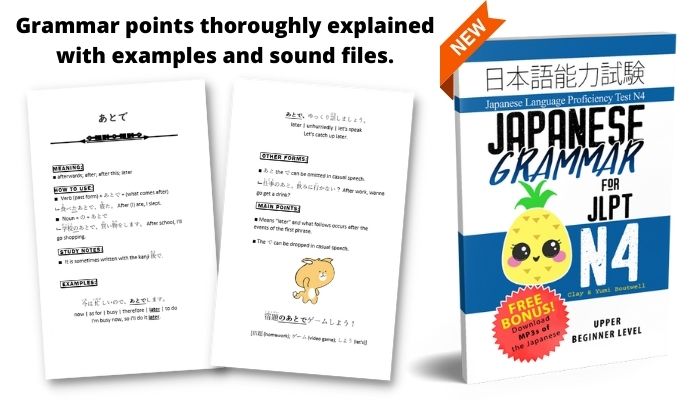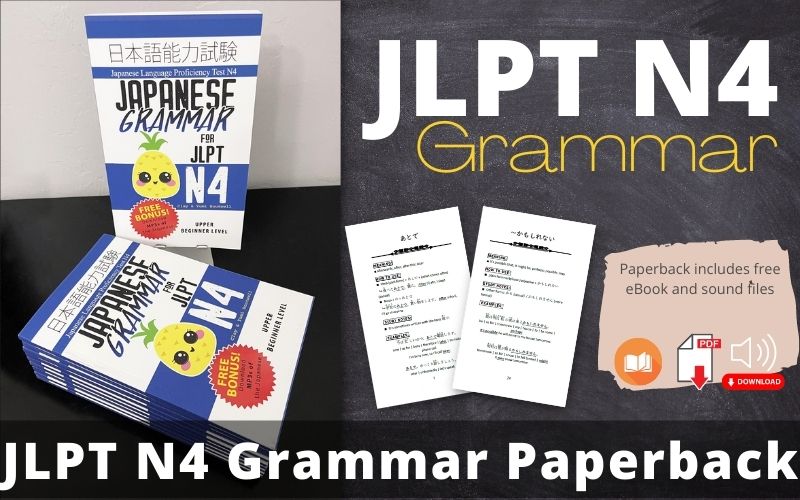 SAVE WITH DIGITAL! This item is included in a digital bundle at a discount. If you would like the eBook version (PDF, ePub, or Kindle MOBI) and the sound files, please see our discounted bundles here - JLPT N4 BUNDLE
--
The digital files (eBook and sound files) are included with the purchase of this paperback. Simply place your order and the download link will be emailed you immediately after puchase.

Japanese Vocabulary for JLPT N4 covers the grammar needed to pass the Japanese Language Proficiency Test level N4. This is the upper beginner level of the test and is suitable for upper beginners who have mastered the basics of Japanese.
Whether you are planning to take the Japanese Language Proficiency Test N4 or just would like to continue learning important Japanese grammatical points, this book will teach you the most useful grammatical patterns in an easy-to-understand way. Download the sound files and the accompanying PDF for a complete learning system (included for no extra charge).


UPPER BEGINNER LEVEL

Download the sound files for every Japanese example sentence within. Link emailed to you immediately after purchase. 

Explanations in plain English with several examples per grammar point.

Example sentences are broken down with a literal word-by-word translation to aid comprehension. 

Each kanji

 

has furigana

 

(small hiragana over the kanji)
Grammar Points Covered:
あとで
~ば/~れば    
~ばいいですか            
場合     
ことができる 
〜だす(出す)            
できるだけ      
どうも
~始める(始める)  
~はずだ           
~はずがない 
~かどうか      
~かもしれない            
~に気がつく 
~ことにする 
~ことになる
~く/ ~にする              
まま     
まだ〜ていない            
または
~みたい           
~ながら           
~ないで           
~ないでおく 
~なくてもいい(不必要)   
~なくてはならない  
なら     
~なさい           
~にくい           
~のですか・んですか             
~のは~だ      
~のような      
~のように      
のに     
お~ください 
~られる           
~させる           
~させられる 
~せいで           
~し     
そうだ
~そうだ           
すぎる
~たばかり      
~たがる           
~たら
~たらどうですか       
~てあげる      
~ているあいだに~  
~ていただけませんか             
~てくれる      
~てくれてありがとう             
〜てみる           
~てもらう      
~ておく           
~てくる・~ていく  
~てくる #2     
~てしまう      
~てすみません            
~てよかった 
~ても・〜でも            
と          
~という~      
つづける(続ける)  
~は~が
~やすい
~よう(だ)
~ようと思う
ぜひ
全然~ない